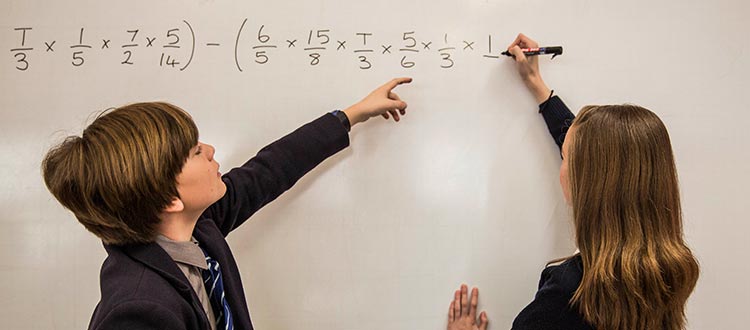 Mathematics Scholarships (ages 11-13+)
We award up to 10% of tuition (day) fees to pupils with truly exceptional mathematical ability and potential. In addition to any financial award, successful candidates make the most of their natural ability through our enriching Specialist Mathematics Programme (created by our Director of Specialist Mathematics and our Mathematics Professor-in-Residence) that both extends and challenges them.
Assessment criteria
Academic performance – this will be based on papers in English and Mathematics
An interview assessing wider interests and thinking skills
School reference
How to apply
Our Be a Mathematician for a Day workshops (open to pupils currently in Years 5 and 6) that we typically hold each full term, along with our entrance assessments, form the basis of our mathematics awards. During the workshop, your child will be assessed on their mathematical ability and potential by taking part in a variety of activities. To book onto a workshop, please fill out the form below or contact our admissions team for more information on 01749 834441 or 
[email protected]
Successful candidates will be invited back to sit our academic entrance tests. They will need to complete our registration form (please see the link in the right menu) and return it with the relevant registration fee to our admissions team before January to take part in our entrance assessments.
Be a Mathematician for a Day – Forthcoming Dates
Saturday 16th March 2019 (deadline: Friday 8th March)
Saturday 4th May 2019 (deadline: Friday 26th April)