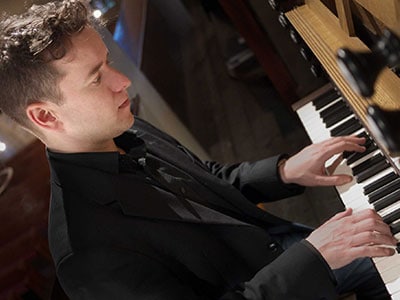 Project Description
Daniel Moult, Organ
Daniel Moult, "one of the finest organists of our time" (The Organ), is renowned in the UK and abroad for virtuosic, intelligent and engaging performances of repertoire from the 14th to the 21st centuries. His musicianship has been praised as "exhilarating" (Gramophone), "dazzling" (The Organ), and "formidable" (Organists' Review). He has pioneered the use of film as a means of promoting organ music, and has presented and performed in two DVD releases, Virtuoso! Music for Organ, a film featuring some of the most demanding 20th century repertoire, and The Elusive English Organ, a journey through English organ music from 1550 to 1830. He is currently preparing the sequel, The Imperial English Organ, which will continue the story through the 19th and into the 20th century. He has made several CDs, the most recent of which is the first solo recording of the newly restored organ of Arundel Cathedral, released by Regent Records in Autumn 2014.
As a soloist, Daniel performs throughout the UK, Europe, Australia and Singapore. Recent ensemble appearances include playing Mozart's organ music as part of the Mozart Unwrapped festival at King's Place in London, concerts celebrating Handel with the London Early Opera Orchestra, and tours of France and Switzerland with Kammerorchester Basel. In June 2014 he was the artist in residence at Sydney Grammar School, performing Poulenc's organ concerto.
Born in Manchester, Daniel studied at Oxford University (where he gained the Fellowship diploma of the Royal College of Organists with three of the top playing prizes) and the Amsterdam Conservatorium. He is a sought after educator, and teaches through the RCO Organ School, on many masterclasses, workshops and courses around the world, as well as maintaining regular teaching positions at the Birmingham Conservatoire, Wells Cathedral School and the Royal College of Music Junior Department. He has published several editions, including the Easy Bach Album and the upcoming Easy Handel Album with Bärenreiter. He broadcasts frequently on BBC television and radio and has recorded for various record labels including Fugue State, Sony BMG and Radio Netherlands.
"My only caveat was that I wanted more." (The Sydney Organ Journal)