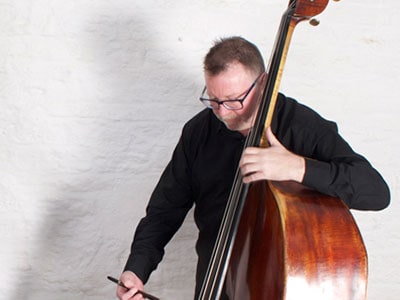 Project Description
David Heyes, Double Bass & Theory/Musicianship
David Heyes studied double bass with Laurence Gray and Bronwen Naish, later at the Royal College of Music in London, and completed his post-graduate studies in Prague with Frantisek Posta (Principal Bass, Czech Philharmonic Orchestra). He has given recitals and masterclasses in 13 countries over the past few years and has been a juror at a number of international competitions, twice as chairman.
David has been Specialist Double Bass Tutor at Wells Cathedral School for 20 years, alongside a thriving and busy private teaching studio, and for a year was Contemporary Performer-in-Residence at the Royal Northern College of Music in Manchester. He is a founder member of Basso Bravura! (with soprano Sarah Poole), co-founded the Bristol Bass Club and London Basses Workshops and is Artistic Director of Bass-Fest. David's collaborative work gained him a prestigious award from the David Walter Charitable Trust of New York for his pioneering activities as a soloist, teacher, publisher and commissioner of new music for double bass and he works with composers throughout the world to expand the double bass repertoire by commissioning new music and by rediscovering forgotten ones. Since 1990 more than 500 works have been written for him, music from one to twenty basses and from beginner to virtuoso, and he has premiered ten contemporary concertos with orchestra.
David has transcribed and performed a wealth of music for double bass and in recent years has composed a number of original works which have been performed both nationally and internationally. Six works inspired by the centenary of the First World War have been particularly successful and his choral and vocal music has been performed with success in Britain, Ireland and America. He composed 'Sahara' for unaccompanied double bass as the imposed work for the 2015 Galicia Graves Double Bass competition in Spain and returns there as Featured Composer and guest tutor in 2017. Since 2014 David has had music performed in 11 countries (UK, USA, Germany, Czech Republic, Mexico, Turkey, Venezuela, Australia, Ireland, Israel and Spain). In November 2016 two of his songs were recorded by Sarah Poole (soprano) and Derek Harris (piano) for Prima Facie Records, who also recorded an entire CD of works by David in January 2017.
In 1986 David founded the publishing company Recital Music, which now has the largest catalogue of double bass music in the world, and has written articles and reviews for the leading specialist magazines including The Strad, Bass News, Music Teacher, Double Bassist, ESTA News & Views and Classical Music.
"… a dazzling display of the instrument's bel canto qualities" – Music & Musicians magazine
"… wonderfully well played, the dazzling passage-work splendidly executed with cheerful geniality" – Bath Chronicle
"…a sparkling performance" – Bath Concertino
"You are doing excellent work for the Bass World. Your students and the Wells Cathedral School students are lucky!!" – Simon Garcia, Spanish composer-bassist
"…You certainly command a wonderful, re-creative and innovative double bass section within the String Department of Wells Cathedral School. A seriously brilliant, singular and on-going achievemnt by you in the challenging world of education. Excellent stuff! I look forward to many more workshops under your incomparable, inspiring and guiding leadership." – John Alexander, British composer
"David Heyes…inspirational Godfather of the international double bass world." – Katrina Gordon, Scottish composer and inspirational teacher and educator
"It was fascinating to have the composer, David Heyes, show us how his music should be played and help us to play a variety of extended techniques. I now have new repertoire to work on and a clear idea of what it is supposed to sound like!" – LONDON BASSES participant
Photo Credit: Mary Criddell