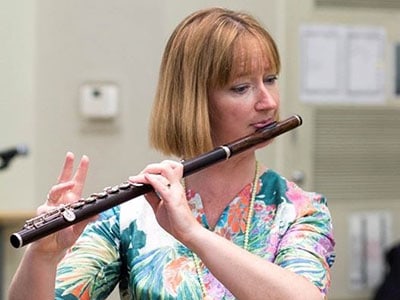 Project Description
Elizabeth Walker, Flute and Baroque Flute
Elizabeth Walker studied at the Royal College of Music as a Junior Exhibitioner (where she was awarded the Sally Wainwright woodwind prize in 1985) and as a graduate at the Guildhall School of Music and Drama, studying renaissance flute with Nancy Hadden, baroque and eight – keyed classical flute with Stephen Preston and modern flute with Kathryn Lukas. She went on to do a postgraduate study of Early Music at the Koninklijk Conservatorium in The Hague, studying with Wilbert Hazelzet and receiving masterclasses from Barthold Kuijken.

Elizabeth has performed in a number of period orchestras including the English Baroque Soloists, The Orchestra of the Age of Enlightenment, The Orchestra of the Eighteenth Century and the Classical Opera Company. She is a founder member of 'Festive Flutes' a modern flute quartet formed back in 1985, who have appeared on television and radio and continue to work on educational projects and large-scale flute events such as the Belfast Big Flute Challenge with Sir James Galway.

In 2008, Elizabeth recorded a solo CD of Telemann's Fantasias on a modern wooden flute, followed in 2011 with a recording of the J.S.Bach Flute Sonatas with her group 'Continuum'. In 2012 she formed a partnership with the pianist Richard Shaw to explore repertoire from the mid nineteenth century composed specifically for her original Louis Lot Boehm-system flute, dated 1859. Together they have recorded a CD 'Finchcocks Schubertiade' and a film using Chopin's original Ignace Pleyel piano from 1848, and given recitals at the British Flute Society convention, the National Flute Association in Chicago, and in Canada, Switzerland and Holland. Elizabeth has had numerous arrangements published by WonderfulWinds (GB) and Alry Publications (USA) and has written two study books. Her book 'Baroque Flute Studies' won the NFA Publication award, Best Flute Method, in 2015. She also coaches on 'Flutes in Tuscany,' an annual summer flute course that she set up in Italy.