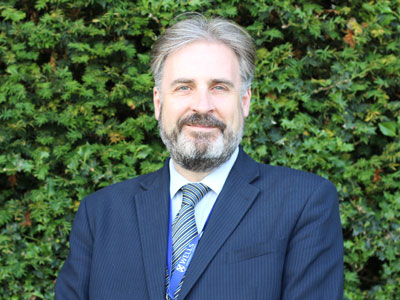 Project Description
John Fosbrook, Director of Admissions and Marketing
I joined Wells Cathedral School in April 2019, but I have known the school for many years.
I was brought up in Wolverhampton as a sport-loving musician, dividing my spare time between the cricket pitch and the rehearsal room. I studied music at undergraduate and postgraduate level at Exeter University, and after graduation spent a decade working in publishing. I was fortunate to be able to travel the world, spending a lot of time in the US, in mainland Europe and particularly in Scandinavia – I even relocated to Copenhagen for a year (so I can relate to the excitement and nervousness that our boarders feel when they head to a new country!). 
Between 2007 and 2019, I spent a very enjoyable (and busy) twelve years in charge of marketing and PR at first the Royal College of Music, and then Trinity Laban Conservatoire of Music and Dance.
It was then that I got to know Wells through its alumni: each year we would take a number of Wells pupils, and they always stood out as being not only exceptional musicians but also wonderfully well-rounded young people who were natural leaders: confident, responsible, and eager to take advantage of all that the colleges could offer. Their time at the school had clearly brilliantly prepared them for higher education.
So when the opportunity arose to work at Wells, I leapt at the chance! And since arriving here, the school has exceeded all my expectations. It's been a great joy to have met so many lovely colleagues, pupils and parents, and to have been welcomed so warmly into the beautiful Wells family.