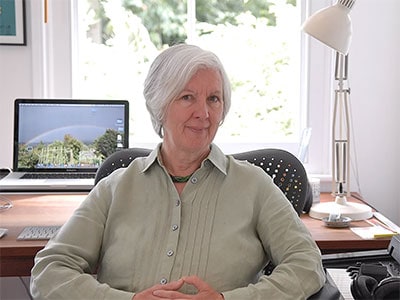 Project Description
Judith Weir
Judith Weir was born into a Scottish family in 1954, but grew up near London. She was an oboe player, performing with the National Youth Orchestra of Great Britain, and studied composition with John Tavener during her schooldays. She went on to Cambridge University, where her composition teacher was Robin Holloway; and in 1975 attended summer school at Tanglewood, where she worked with Gunther Schuller.
After this she spent several years working in schools and adult education in rural southern England; followed by a period based in Scotland, teaching at Glasgow University and RSAMD. During this time she began to write a series of operas (including
King Harald's Saga, The Black Spider, A Night at the Chinese Opera, The Vanishing Bridegroom
and
Blond Eckbert
) which have subsequently received many performances in the UK, Germany, Austria, the Netherlands, Belgium and the USA. The most recent opera is
Miss Fortune
, premiered at Bregenz in 2011, and then staged at the Royal Opera House Covent Garden in 2012.
As resident composer with the City of Birmingham Symphony Orchestra in the 1990s, she wrote several works for orchestra and chorus (including
Forest, Storm
and
We are Shadows
) which were premiered by the orchestra's then Music Director, Simon Rattle. She has been commissioned by the Boston Symphony Orchestra (
Music Untangled
and
Natural History
) the Minnesota Orchestra (
The Welcome Arrival of Rain
) and the London Sinfonietta (
Tiger under the Table
); and has written concert works for some notable singers, including Jane Manning, Dawn Upshaw, Jessye Norman and Alice Coote. Her latest vocal work is
Good Morning, Midnight,
premiered by Sarah Connolly and the Aurora Orchestra in May 2015.
She now lives in London, where she has had a long association with Spitalfields Music Festival; and in recent years has taught as a visiting professor at Princeton, Harvard and Cardiff universities. Honours for her work include the Critics' Circle, South Bank Show, Elise L Stoeger and Ivor Novello awards, a CBE (1995) and the Queen's Medal for Music (2007). In 2014 she was appointed Master of The Queen's Music in succession to Sir Peter Maxwell Davies. In January 2015 she became Associate Composer to the BBC Singers.
Much of her music has been recorded, and is available on the NMC, Delphian and Signum labels. In 2014-15 there were releases of The Vanishing Bridegroom (NMC) and Storm (BBC Singers/Signum). Judith Weir's music is published by Chester Music and Novello & Co. She blogs about her experiences of cultural life in the UK at
judithweir.com.