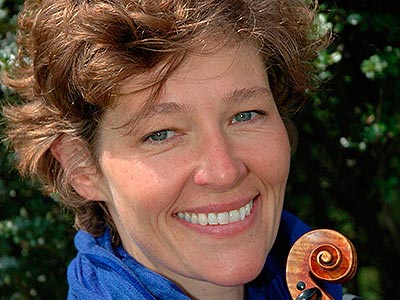 Project Description
Karin Leishman, Violin
Karin Leishman is widely recognised as one of Britain's foremost violinists and chamber musicians. She was an Exhibitioner at the Royal Academy of Music in London and whilst there won several major violin prizes. She also studied in Australia and The Netherlands and her teachers have included Carmel Kaine and the celebrated Russian violinist Viktor Lieberman. Whilst a student, Karin Leishman performed in masterclasses with numerous important violinists and pedagogues, including Anne-Sophie Mutter, Zakhar Bron and Christopher Warren Green. She also received much personal guidance and mentoring in chamber music from the members of the Amadeus Quartet. The famous British violinist Hugh Bean wrote of her after awarding her the first prize in one of the Academy violin competitions "an unfailing beauty of tone."
For the past six years, Karin Leishman has been the leader of the Alberni String Quartet, one of Britain's most celebrated chamber ensembles and described after a Carnegie Hall recital in the New York Times, as "one of the finest half dozen quartets in the world." Famous for their interpretation of the Viennese classics, a complete Beethoven cycle recently performed in the UK over just six consecutive nights attracted and thrilled capacity audiences some of which had travelled from as far as America and Europe especially for the event.
Karin Leishman is also in demand as a recitalist and soloist and in this capacity she has performed and broadcast throughout the World. She has in her current repertoire, the Beethoven, Sibelius, Mendelssohn, Bruch, Prokofiev 2nd and Brahms Violin Concertos and many smaller pieces too, such as; Vaughan Williams` " The Lark Ascending", Sarasate`s Zigeunerweisen and "Carmen Fantasy". All of which she has performed with orchestras.
She has also guest-lead many distinguished ensembles and orchestras including the CBSO and she has also appeared as Assistant Concertmaster of the Philharmonia Orchestra. Karin Leishman is a very experienced teacher, having taught both the solo violin and string quartet repertoires for many years and her rare qualities as a performer have led to her being offered on loan several fine violins including a 1727 Antonio Stradivari.