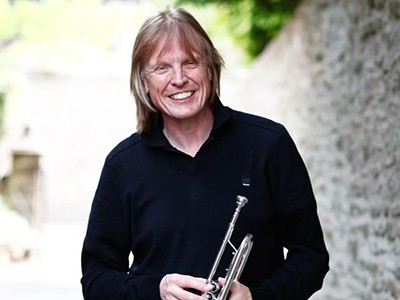 Project Description
Paul Denegri – HonARAM FTCL LTCL – Head of Brass & Rock and Popular Music, Trumpet
Paul began his musical career as a Junior Exhibitioner at the Royal College of Music, studying trumpet with Colin Cleague (English National Opera). A move to Trinity College London saw him study the trumpet with Iaan Wilson (BBC Symphony Orchestra), John Wilbraham (BBC Symphony Orchestra) and composition with Dr Brian Blackwood. At Trinity College he was awarded the I'll Sono di Ottone Prize for Performance twice in successive years and the Student Union Chamber Prize.

Following on from music college he performed with many orchestras, including the BBC Symphony Orchestra. He was a member of the London Festival Orchestra for six years, with whom he appeared as a soloist and also on many recordings. He was also a member of The John Wilbraham Brass Soloists. In 2008 he was awarded an Honorary Associate of The Royal Academy of Music London for services to, and achievement in the music profession.

In 1986 he was appointed Head of Brass, Jazz and Commercial Music at Wells Cathedral Specialist Music School where he remains to this day. Outside of Wells he works regularly with the countries leading youth ensembles including: The National Youth Wind Orchestra, The National Children's Orchestra, The National Youth Wind Ensemble, The IAPS Orchestra, South West of England Symphony Orchestra, The South West Youth Wind Sinfonia and many of the countries county orchestras. He has taught trumpet at Bristol and Exeter Universities and his conducting and musical duties have taken him as far a field as South Africa, USA, Malaysia and Greece. In 1995 Paul was invited to be the inaugural Head of Brass for The Gloucester Academy of Performing Arts. Paul was delighted to be invited by Paul Archibald to coach on the prestigious English Brass Academy courses for 2013.

Paul is currently the principal conductor of The Schools Philharmonic Orchestra and also rehearses the Wells Cathedral School Symphony Orchestra in preparation for the conductor in residence at Wells, Christopher Adey. In 2007 he was invited to be the Artistic Director of The South West Music School which is a member of the DfES Dance and Ballet scheme. Here his role was to advise on its artistic vision in its first year of existence. Since then he has maintained a close relationship with the school as a mentor, on the audition panel and as a trumpet teacher and ensemble coach. His compositions and arrangements for brass have been performed in Europe by the The Munich Opera Brass and Ensemble d Cuivres I'll de Paris as well as throughout the UK. Naman was recorded and released by the Harper Ensemble and in 2013 Naman, along with his other major work for Dectet Brass; Leviathan, have both been published under the Superbrass publications in 2015 and 2016. Paul has written four full-length rock musicals including original story, script, lyrics and music. A recent commission for year 3-6 pupils, Cautionary Tales was premiered at the Edinburgh Festival in 2009. A new musical and a further Edinburgh Festival followed in the Summer 2011 of a new musical, Everything in Nothing for Junior School children. This musical received critical acclaim when awarded four star rating by several critics. Paul followed this success up with a new musical, Coffee with Guv, which premiered at the Edinburgh Festival in 2013. This musical received critical acclaim receiving a four star rating from independent critics, including Broadway Baby.

Keen to give back to an education system that had served him well, Paul was delighted to be, for a short time, an LEA Governor for Huish Primary School in Yeovil, with key responsibilities for music and year 3. Paul maintains a busy freelance musical career outside of Wells, which includes playing, adjudicating, writing and arranging, conducting and coaching.

Although music keeps him very busy he is married to Ruth and he has four children, Sebastian, Annie, Jack and Holly. He has a deep passion for football and has been for many years a season ticket holder at Yeovil Town FC and follows them home and away with all his children, work permitting. His other interests are American rock music, reading historical biographies, all things Russian, The Apollo Moon missions, for which he has an ever ending passion and walking across the beautiful Mendips and Somerset Levels with his dog, Branston.