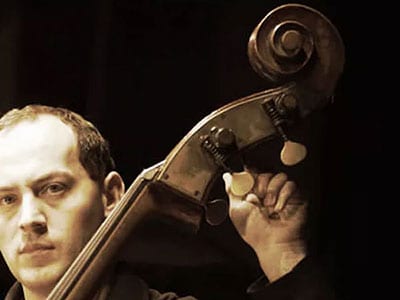 Project Description
Yuri Goloubev, Jazz Double Bass
Yuri Goloubev was born in Moscow, Russia in 1972 where he studied classical bass and composition at the Moscow Tchaikovsky Conservatoire. In 2002 he became the youngest bass player in the history of both the USSR and Russia to be awarded the prestigious title of the "Honoured Artist of Russia" by President Putin and was featured in the international magazine "Harper's Bazaar".
From 1991 to 1992 Yuri performed with the Bolshoi Opera, and from 1992 until 2004 was Principal Bass with one of the world's most noted chamber orchestras the "Moscow Soloists" directed by Yuri Bashmet. Here he collaborated with many top classical artists: Thomas Quasthoff, Lynn Harrell, James Galway, Gidon Kremer, Barbara Hendricks, Sviatoslav Richter, Mstislav Rostropovich, Vladimir Spivakov, Maxim Vengerov, and he has performed at many major concert halls throughout the world including Carnegie Hall and the Sydney Opera House.
After a splendid career in classical music, Yuri moved to Milan in December 2004 to dedicate himself to his "true calling" – jazz music. In Italy, he rapidly attracted the attention of many well-known Italian musicians, and has since collaborated with Enrico Pieranunzi, Rosario Giuliani, Franco Cerri, Glauco Venier, Claudio Fasoli, Giovanni Falzone, Guido Manusardi, Gianni Cazzola, Massimo Manzi and musicians from overseas Franco Ambrosetti, Ron Horton, Mike Serin, Michael Rosen, Klaus Gesing, John Law, Bill Smith, Paul Bollenback, Shawn Monteiro, Christoph Spendel, Adam Nussbaum, Miles Griffith and others. Yuri's playing and compositions are featured on over 40 CD recordings as leader or co-leader. In 2007, he joined the jazz faculty of Centro Professione Musica (CPM) in Milan.
www.yurigoloubev.com