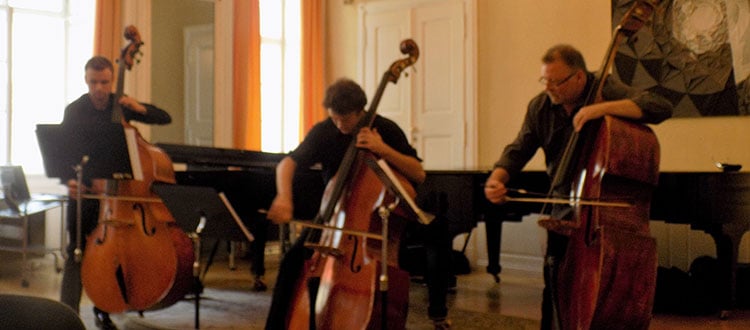 BASS2016 (20-25 September) attracted hundreds of double bassists from around the world for a week of concerts, masterclasses, seminars, workshops and so much more. It was a rare occasion for bassists of all ages and abilities, whether classical, jazz or contemporary, and there was something for everyone alongside trade stands for luthiers, bow makers, instrument dealers, music shops and everything connected to the double bass.
David Heyes has given recitals and masterclasses in 13 countries in recent years, has been a juror at a number of international competitions, twice as chairman, and is known both nationally and internationally for his work as a soloist, composer, teacher, publisher and commissioner of music for double bass.
BASS2016 was held at the Academy of Performing Arts in Prague and David was invited to give a recital and workshop, alongside performing in the Simon Garcia SoundWorld as both soloist and conductor. His recital (Wednesday 21 September) featured three of his own works and an international programme of music for one, two and three double basses by composer friends including Teppo Hauta-aho (Finland), P Kellach Waddle (USA), Bernard Salles (France) and Simon Garcia (Spain). The workshop, titled 'Technique for the Young Bassist – aged 8 to 80′ included many of the exercises that the Wells bassists study and demonstrated that these are the same technical rules for the professional or amateur of every age. Technique is technique…
David made his conducting debut in the Czech capital on his birthday, stepping in at the last moment in two works by the Spanish bassist-composer Simon Garcia. Time Capsule for double bass octet and Echoes & Shadows for 12 basses are playable without a conductor but the time constraints meant it wasn't possible on this occasion. The all-Garcia programme was a triumph for everyone concerned and David was both soloist, performing The Origins for double bass duo with Simon Garcia, and conductor in the final two works. He was then serenaded with a raucous and not particularly musical Happy Birthday by all the bassists and audience, much to his embarrassment, bringing the concert to a fun conclusion.