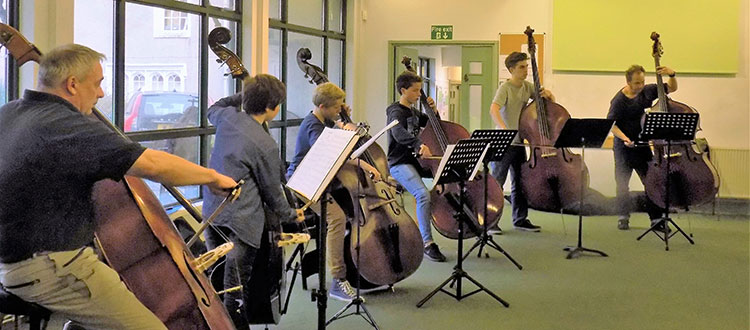 Wells Double Bass Academy 2
The Wells Double Bass Academy was founded earlier this year by David Heyes and the second workshop took place at Wells & Mendip Museum on Sunday 13 November 2016. Three bassists from the school took part, helping to create a wonderful day of technique workshops, masterclasses, ensemble sessions culminating in an informal concert which featured eight works for one, two, three and massed basses. Alex Heather and Jan Cowell, both double bass specialists were actively involved in every aspect of the day, joined by 10 year-old Miles Wragg, who is new to the school, and took charge of his new 1/2 size double bass earlier this week.
The final concert included a stunning performance by Jan Cowell (left) of Reflection No.3 for unaccompanied double bass by Miloslav Gajdos. Performed with energy and great skill, Jan demonstrated many aspects of the solo double bass and the extended applause was well deserved. Jan is Principal Bass of the National Children's Orchestra and takes his Grade 8 exam later this term.
Alex Heather, now in his third year at Wells, played bass 1 in the four bass ensembles studied and performed during the day and wasdscn3477 both composer and performer in his own A Celtic Rhapsody for 2 double basses, partnered by David Heyes. The extended one movement work is atmospheric and evocative exploring much of the range of the solo double bass and was a great addition to the concert. Primarily modal, the part-writing was effective and well-written and both performers obviously enjoyed the music and performance.
David Heyes has a growing international reputation as a composer and he premiered his double bass trio Invocation alongside Alex Heather and Jan Cowell. The music is simple and gentle, reflective and repetitive, and was described by double bassist and teacher Gemma Ashcroft as "… gorgeous in its simplicity…" It was also played at the Royal Northern College of Music in Manchester on the same day and has its US premiere in Los Angeles on 8 November. David's bass ensemble The Last Poppy, in it's new guise for double bass quartet was included to reflect the solemnity of Remembrance Sunday alongside a new arrangement of Call for Remembrance by English composer Richard Farrant (c.1525-1580) created specifically for the workshop. The WDBA next meeting will be on Sunday 29 January 2017.