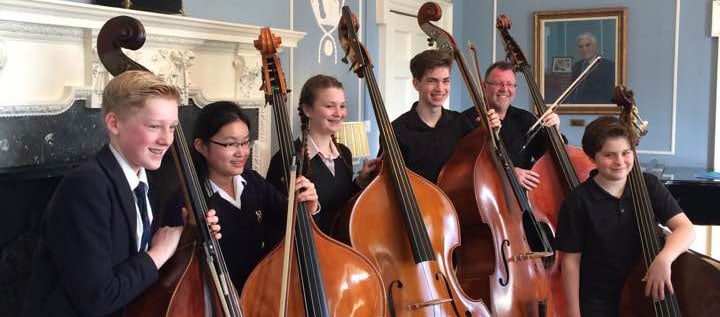 The plush and elegant surroundings of Cedar's Drawing Room resounded to the strains of music from Finland on Friday, as David Heyes and five members of the double bass department performed a lunchtime concert to celebrate the centenary of Finland becoming an independent country.
The concert featured music by Teppo Hauta-aho, Simón García, David Heyes and Jean Sibelius. Finnish bassist-composer Teppo Hauta-aho is the most prolific double bass composer in the history of the instrument and has been a guest of the school on a number of occasions. The concert featured a range of his solo and ensemble music, including two pieces from Teppo's Ten plus Two, commissioned by the school in 2011, here performed by ten year-old Miles Wragg.
Jan Cowell and Constance McDonnell played his Bass-Fest Duettino with great energy and panache, and Jan joined David and Alex Heather for Trio Poem Basso II which was premiered in Wells two years ago.
Teppo celebrated his 75th birthday at Teppo-Fest 2016 in Bristol, Frome and Wells and a number of works were written for the weekend celebrations. Spanish composer-bassist Simón García is both prolific and successful and his Northern Lights for bass quartet was a gentle and evocative work which employs a simple pizzicato and melody, played entirely in harmonics.
Alex Heather performed three Finnish Sketches by David Heyes, each lasting around a minute in length, which explore a wide range of textures and timbres across the range of the double bass, and Alex performed with great virtuosity and musical understanding.
Bridget Yee joined the bassists in the massed bass items and the concert ended with a beautiful performance of Be Still My Soul by Jean Sibelius, arranged for voices and taken from his amazing tone poem Finlandia.
The audience were supportive and effusive, in their applause and comments, and the concert confirmed the double bass departments strong international links with contemporary composers throughout the world.
Photo by David Cowell