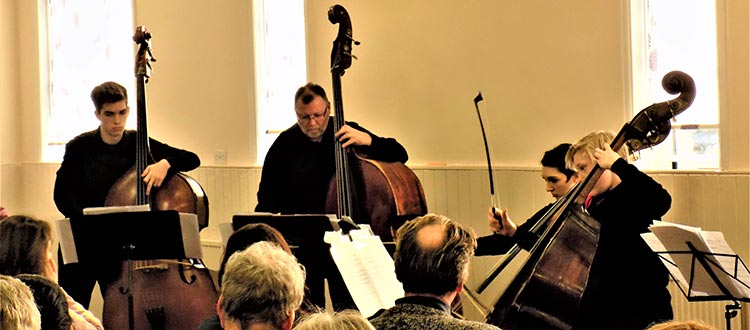 The first three months of 2017 have been action-packed for the double bass department at Wells. Alongside lessons, rehearsals, solo and orchestral performances, the bassists have taken part in six chamber music concerts which have featured works from the 16th-century to the present day. The range of repertoire reflects the open and positive attitude of the bassists and Specialist Double Bass Tutor, David Heyes, is always keen for them to play a wide breadth of music which employ both musical and technical challenges in equal measure. They have performed in six world premieres featuring works by P Kellach Waddle (USA), John Alexander (UK) and Bernard Salles (France), alongside music by Teppo Hauta-aho (Finland), David Heyes (UK), Simon Garcia (Spain), Tony Osborne (UK), Michael Montgomery (USA) and Katrien Bos (Netherlands).
Sixteen year-old Alex composed 'A Celtic Rhapsody' for double bass duet at the end of 2016, and has received a number of successful performances this term already. Bridget from Malaysia is writing a one-minute piece for Posta100, a work for unaccompanied double bass to be performed and recorded in 2019. The project was instigated by David Heyes to celebrate the centenary of the birth of his teacher in Prague, Frantisek Posta (1919-1991) and to date 39 composers from 17 countries are involved. Jan has completed a four movement double bass quartet which we will workshop and premiere after Easter, and the possibilities and opportunities for these talented young bassist-composers are endless.
Ten year-old Miles recently passed Grade 4 with distinction (94%) and Darcie, a specialist trumpeter and 3rd study double bassist, passed grade 5 with distinction (88%), and we are pleased to welcome chorister, James to the double bass department. His first concert as a double bassist will be on Sunday 23 April 2017 at Basses Galore! at the Silk Mill in Frome when he will perform two short pieces by American composer Armand Russell, who celebrates his 85th birthday this year.
This term has been a very busy one for David Heyes with a very successful visit to Northern Spain as the Featured Composer and soloist at Galicia Graves 2017. His national and international profile as a composer continues to develop and he had 42 works performed in five countries in February, and 21 works performed in four countries in March. His performance of 'Passchendaele – a Meditation' for 2 solo basses and string orchestra in Bath in March elicited amazing comments from performers and audience alike including "What a privilege to share the stage with you both…It was a thoroughly enjoyable evening. I have rarely seen an audience, adults and young children alike, so visibly moved as during 'Passchendaele'. Extraordinary stuff" and "Passchendaele was extraordinary both as a piece and as a performance by your both. I haven't heard something as wonderful as that for some time."
David has commissions to write a massed bass work for the Bodleian Library in Oxford in May and a new work for the Royal College of Music Bass-Fest in November, where he is also a guest soloist. He will record several of his own works in Oslo in July, is a guest of the University in Arkansas in the same month, and has invitations to perform and teach in Spain, Denmark and Turkey in 2018.
These are exciting times for the double bassists at Wells and the department is amazingly hard working, proactive and enthusiastic.