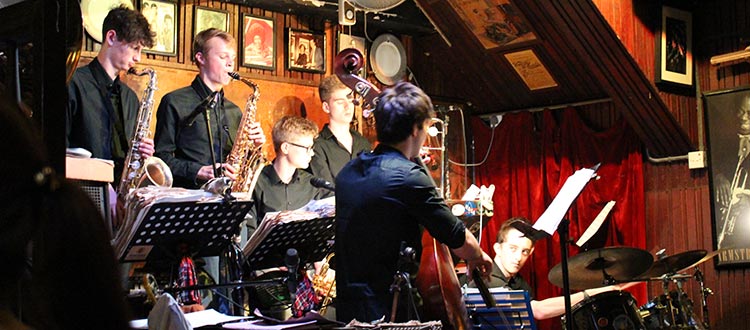 Wells Senior Jazz Combo, comprising eight sixth form specialists, travelled to Hong Kong over Easter to present a programme of mainstream jazz standards and their own compositions at a range of venues across the city. The ensemble were welcomed by the Wells Music Society of Hong and by many local jazz fans at venues as diverse as the now legendary jazz club 'Ned Kelly's Last Stand', Grappa's Jazz Night, Bert's Bar at the Foreign Correspondence Club and the prestigious Hong Kong Club. The highlight of the week was a recording in front of a live studio audience at Radio Hong Kong which was broadcast on 1st May on Radio 3 RTHK and presented by long time Wells supporter Phil Whelan. Wells musicians worked alongside Hong Kong based musicians, including well known Australian saxophonist Blaine Whittaker, who joined them for the radio broadcast.
The combo also visited two schools. They performed to 800 students at Yew Chung International School before helping them to launch their Earth Day Festival, whilst later in the week they visited Ying Wa College, one of Hong Kong's oldest schools, and jammed with the students who presented taiko drumming and played traditional Chinese instruments, the erhu and pipa. Wells students were able to spend some time interacting with the young people of Hong Kong over traditional Chinese snacks.
The week was very busy but there was some time for a little sight-seeing around the city and of course we managed to sample the local cuisine. The group had an unforgettable cultural and musical experience and thoroughly enjoyed themselves!
Participating musicians were Innes (piano), Matthew (double bass), Luke and Sylvan (saxophones), Alex (drum kit), Felix (trumpet), James (trombone) and vocalist Cian.