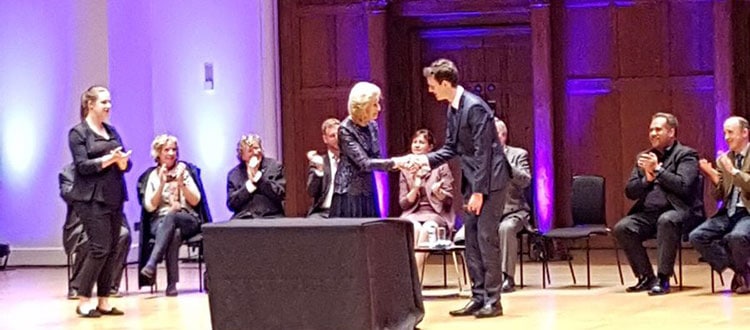 Trombonist James Wins ROSL Music Competition
Congratulations to Old Wellensian trombonist, James Buckle, who won the Gold Medal at the finals of the prestigious Royal Overseas League Music Competition, held at Cadogan Hall on Wednesday evening – the very first brass player ever to win the Gold Medal in its 65 Year history.
The ROSL Annual Music Competition is the centrepiece of ROSL ARTS' year-round programme of events. The competition offers more than £70,000 in awards with a £10,000 first prize (the Gold Medal) for solo performers and two chamber ensemble awards of £10,000.
The international competition, open to musicians across the Commonwealth, is of the highest standard, with previous winners going on to win Grammys, enjoy solo international careers and take Principal positions at some of the world's leading orchestras. ROSL ARTS offers support and mentoring to competition winners, as well as promoting prizewinners' concerts and events throughout the Commonwealth.
James, a specialist bass trombone whilst at Wells, took up a scholarship to continue with his trombone studies at the Royal Academy of Music in 2011. Since graduating he has played regularly with London's Philharmonia Orchestra and the Royal Philharmonic Orchestra, and he has been hand picked to study amongst the best in the world, with celebrated trombonist Ian Bousfield in Bern in Switzerland next year.
James played three pieces including Schumann's Adagio and Allegro, and New Orleans by Eugene Bozza for the Cadogan Hall finals. He was accompanied by British pianist and Old Wellensian Alison Procter.