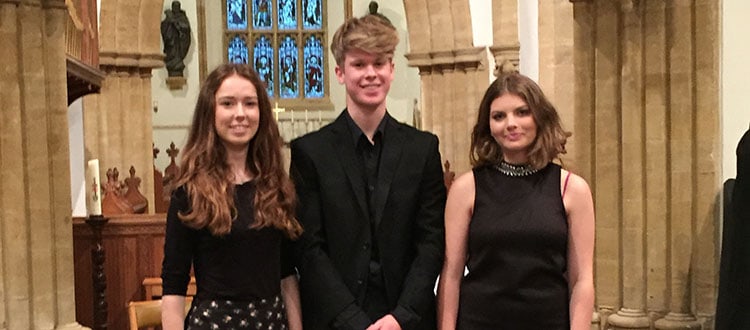 Classical Guitar Specialist Joseph – In Concert
St Peter and St Paul's Church in the Somerset Village of South Petherton presented a delightful concert by Wells Cathedral School classical guitar specialist Joseph and harpists Katie and Jess on the 30th June 2017.
Joseph performed in the second half. The excellent acoustics and light open space of the Church complemented his sound brilliantly with notes projecting beautifully without amplification. The audience were treated to a delicate performance in a variety of styles from this promising young classical guitarist.
Opening with the classical elegance of Fernando Sor's Study no. 11 before moving onto three famous Preludes by the Brazilian composer Heitor Villa-Lobos Joseph showed great subtlety and sensitivity in his playing. The Preludes, originally written for Segovia, each created their own mood and sound world, from the rich bass melody of Prelude no.1 to the contrapuntal Prelude no. 3 (a tribute to J.S. Bach) and the light hearted flowing melody of Prelude no. 5 depicting the Brazilian social scene. By contrast John Duarte's English Suite brought us back to familiar home territory, nostalgically depicting Old England with its folk inspired melodies.
Joseph clearly has a great love of the Spanish repertoire and gave beautiful interpretations of Tarrega's Lagrima and Recuerdos de la Alhambra. An uplifting performance of Andrew York's Sunburst rounded off what was a delightful musical evening for all.
"Everyone in the audience was truly amazed and delighted by the wonderful quality of musicianship of the three, pretty young, performers!  All those present had a truly enjoyable evening………What great musical careers we all think they have in front of them" – John Roberts of St Peter and St Paul's Church.
Joseph is a classical guitar specialist at Wells Cathedral School currently studying with James Rippingale. He has won multiple competitions as a performer and hopes to go on to music college to pursue his passion for music and the classical guitar.