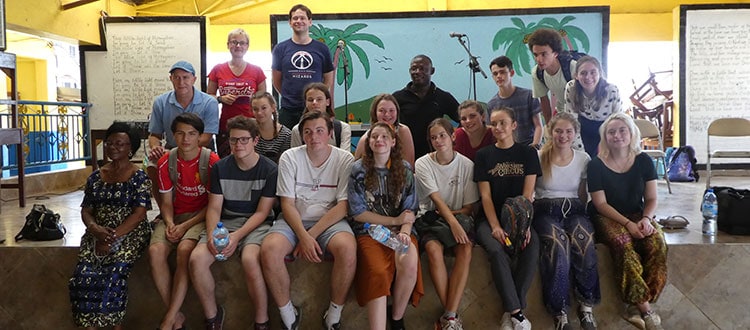 Sierra Leone Project Trip 2017
During the October break, 15 sixth-formers and three members of staff travelled to Freetown for the annual trip to Sierra Leone. Despite the suffocating and humid heat, the students worked hard, with six musicians and Jack Coward giving daily lessons to the older students at the Ballanta Academy of Music. Other students worked at the nearby JT Reffell French Memorial School, teaching English, grammar and drama through the medium of children's stories to pupils aged 5 to 16, as well as teaching maths using SUDOKU. Neil Bowen and Jules Desmarchelier taught poetry and French respectively to the secondary school children.
In the afternoon, the group reconvened to visit the Milton Margai school for the Blind, Murraydeen Primary school, the Vine Memorial School for girls, the Don Bosco Orphanage Project and the Cultural villages for outreach concerts and cultural enrichment.
At the weekend, they visited the Tacaguma Chimp Sanctuary near the area of Regent, where the recent mudslides occurred, as well as visiting the St Charles Street Church in Regent for Sunday morning service and to attend the Mendelssohn evensong recital at the celebrated St George's Cathedral.
Musicians also played two key concerts at the British Council, in collaboration with the Ballanta Academy of Music, and at the British High Commissioner's private house, in front of the elite of Freetown: members of DFID (Department for International Development), ISAT (International Security Advisory Team), the BHC, the Director of the British Council and a select few.
Students worked hard and truly reached out to Saloneans, going out of their way to build contacts and immerse themselves as much as possible in African life. The group also took the opportunity to meet the ten students from the Ballanta who are the first recipients of the new Wells bursaries, totally funded at this stage by money raised by Wells staff and students on the trip!
Each Bursary costs around £180 per year, for one student… there will be more on this in the weeks and months to come, including a concert in Cedars Hall on Saturday 20th January 2018 to raise money for the project and start a rolling programme of bursaries and support for the two link schools in Freetown. This concert will feature current students and Old Wellensians who have been on the trip, and also Mr Leslie Cummings-Wray, senior teacher at the Ballanta Academy of Music and artists from Sierra Leone.
Read about our work in Freetown on our blog, starting from the group's first day of travelling: http://wcsslp.blogspot.co.uk/