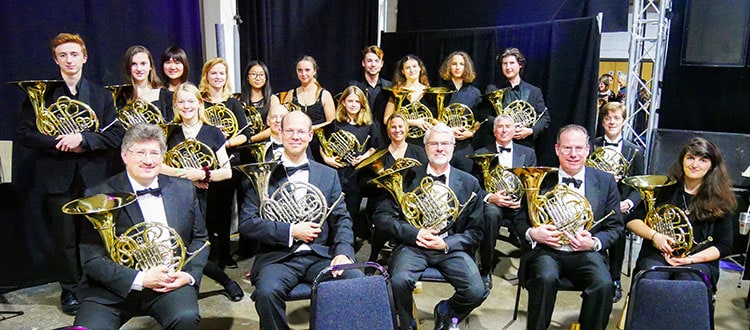 French Horn Alpine Symphony
On Bonfire Night, the horn department took part in a performance of Richard Strauss' epic and rarely played Alpine Symphony with the Frome Symphony Orchestra.
The Frome Symphony Orchestra comprises a mixture of professional and semi-professional musicians. Strauss' remarkable work, which depicts in music the adventurous ascent of a mountain, uniquely requires twenty one french horn players.
Wells horn tutor, Simon de Souza, who coaches the Frome orchestra, arranged for eleven Wells horn students, along with graduate music assistant, Fiona Bassett, to take part, as the offstage hunting chorus. The quality of performance and professionalism of the Wells musicians, which included local, non-specialist students, impressed orchestra and audience alike.
The horn playing chairman of the orchestra wrote, "The off-stage horns sounded fantastic, and for me it was the icing on the cake of a memorable performance!"