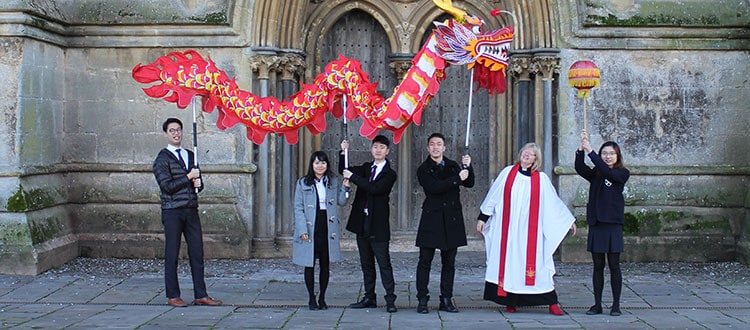 Celebrating the Year of the Dog
Students and teachers enjoyed a rousing start to the week as Monday morning's Cathedral assembly came alive to the beat of Chinese drums heralding the celebration of the Chinese New Year and welcoming the Year of the Dog.
Students sat beneath one of the twelve animals of the Chinese zodiac representing their birth year in the nave of the Cathedral; and were treated to a lively and fascinating assembly put together by fellow Chinese students (under the direction of this term's international prefect, Queenie) and the school's dedicated international team. A group of students sang Chinese folk songs, with the whole school encouraged to join in the vibrant chorus; whilst Edwin played a beautiful, lilting melody on the Chinese flute. In addition to prayers for all our students and the international community from Melissa, students were treated to the legend of the Chinese Zodiac, from head of EAL, Julia Bird, who explained the heartwarming involvement of the Dog in the Great Race from Chinese mythology.
The assembly ended with the dramatic arrival of the Chinese dragon, which weaved its way at speed around the Cathedral and through the rows of students and staff, all eager to take part in the celebratory dragon dance to announce the start of the new year.