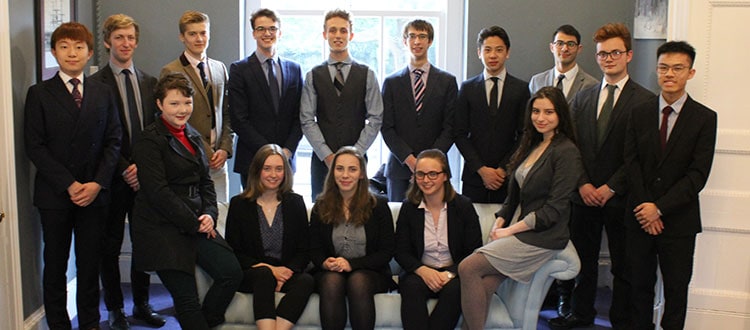 University and Music College Offers
Final year students at Wells Cathedral School have been receiving offers and scholarships from prestigious academic and music establishments worldwide, as they plan the next steps in their education post A-level.
Students have received over 150 offers from Russell Group universities this year, with offers to study a wide range of subjects within the UK, from geology to psychology, architecture to law. Others have cast their net further this year, with offers from colleges across the States, including Wheaton College, Massachusetts, American University in Washington, D.C., Duquesne University in Pennsylvania, and Syracuse University in New York.
Sam, who is hoping to study medicine after his time at Wells has been awarded the prestigious President's Scholarship for academic excellence and potential, alongside his offer at Imperial College; Kit has an offer to read Medicine at University College; whilst Harry has an offer to read English at New College, Oxford; and Marianne has an offer to read Music at St Anne's College, Oxford. Hamad has an offer to study Political Science at the prestigious George Washington University in Washington D.C, famous as the alma mater of many lauded politicians on Capitol Hill and around the world.
Wells musicians
have received an unprecedented number of offers and scholarships from UK music colleges to continue with their instrumental studies, with 73 offers, including 46 significant financial scholarships from prestigious conservatoires such as the Royal Academy of Music, Royal College of Music and Royal Welsh College of Music.
Of particular note are those musicians who have received multiple scholarships, including trumpeter Darcie; french horn player Josie; pianists Julian, Nikita and Nick; percussionists Mary and Daniel, cellists Theo, Ian and Sam; violists Hanako and Monika; violinists Daniel and Raphael; and oboists Fergus and Ella.
Wells musicians
have received over 70 offers from conservatoires across the UK, as well as places to study at conservatoire abroad. Cellist Ian has a scholarship to continue with his music studies at the prestigious Juilliard School in New York and violinist Raphael has substantial scholarships to study at both the Manhattan School of Music and Mannes School in New York.