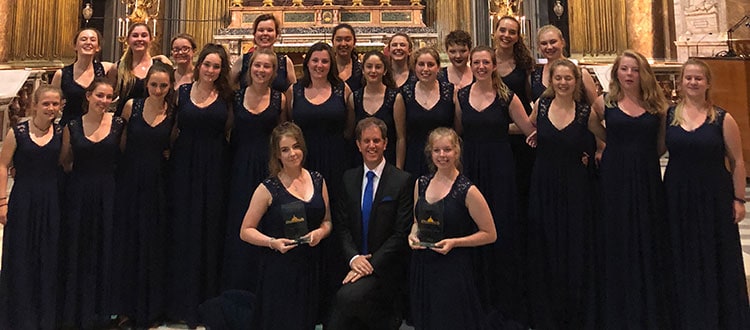 Choralia Wins Grand 1st Prize
Congratulations to the wonderful singers of Choralia, who won the Grand 1st Prize at the 9th Musica Eterna Roma International Choir Festival and Competition over the summer.

The girls choir, conducted by Christopher Finch, also took home the Category Prize, Youth Choirs of Equal Voices, and Christopher was awarded a special prize, for excellent programme choices and the choreography of the performances; thus winning the most categories of any group in the competition.

Choralia, who performed in the stunning surroundings of the Basilica dei Santi XII Apostoli in the heart of Rome, were up against tough opposition from a strong international field, competing against choirs from Hungary, Austria, Italy, Israel, Finland, South Africa, Malaysia, Taipei and Hong Kong.

Wells director of music, Mark Stringer, said, "Christopher Finch did a remarkable job and deserves great credit for the way he prepared and inspired our students. He has been supported over here too by a great team in Alison Armstrong, Karen Finch and Abi Fiddick."

Founded in 2012, Wells Cathedral School Choralia is described by Naxos as 'one of Europe's leading upper voice choirs' and the choir's 2015 album, The Song of the Stars, was released on that label with producer, Mark Brown. The choir was also selected to compete in the international stages of 'Let the Peoples Sing 2013', a major international choral competition.

The choir has since reached the Category Finals of BBC Radio 3's Choir of the Year competition and performed at Sage Gateshead, LSO St Luke's, Milton Court, St George's Bristol, Cathedrale Notre Dame de Paris, the Philharmonie Luxembourg and Wells Cathedral.

Congratulations to Christopher and his team, and of course, the vocalists of Choralia: Carys, Lily, Thea, Francesca, Niamh, Chloe, Hanako, Orla, Annabel, Susanna, Anna, Imogen, Harriet, Madeleine, Adele, June, Astrid, Ellen, Catherine, Isabella, Grainne, Cordelia and Danielle.

The Choralia choir will reform for a special performance at the Choral Fanfare Concert in Cedars Hall on Sunday 7th October to sing their final competition repertoire.