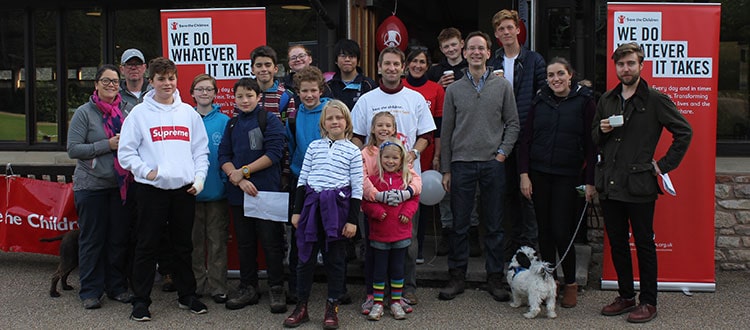 On Sunday, a chilly and autumnal morning, bathed in glorious sunshine, hundreds of pupils, staff, families and excited canine companions from Wells Cathedral School, set off bright and early from the dining hall for the Save the Children Walk, a much loved annual community event to raise money for this fantastic charity.

Pupils from the Reception class, right through to Year 13 took part in the event, which followed a picturesque route through Wells and up onto the glorious Mendip Hills and Penhill Mast, before returning through the beautiful Somerset woods and fields and back to school for a warming bruch prepared by the school catering team.

Some students ran the 5 mile route, whilst others enjoyed a more leisurely stroll in family groups, making the most of the spectacular views across the Levels from the Mendips, joined by Head Master, Alastair Tighe, enjoying his very first Save the Children Walk.

The youngest participant was five year old Christian, who was determined to join his older brother and sister and complete the walk. Year 13 student Bruce and Year 11 student Harry completed the route in the fastest time, taking just 46 minutes to run the 5 miles. Several students ran the route twice to raise double the amount for charity, and Bruce completed it 3 times back-to-back and still looked as fresh as a daisy when he returned!

A large team of staff helpers organised early morning sign in, manned the checkpoints, and marshalled the walkers and runners across busy roads.

Martin Ashton, Wells head of boarding, and veteran organiser of the walk, said, "Thanks so much to those who road crossed, refreshed, registered, signed the route, catered and walked – having postponed the event two weeks ago due to bad weather it was particularly rewarding to see the event work so well today."

In total, the school is aiming to raise £5,000 for Save the Children, with a particular focus on aid to Sierra Leone, where Wells has long established links with the Ballanta Music Academy and JT Reffell School in Freetown.