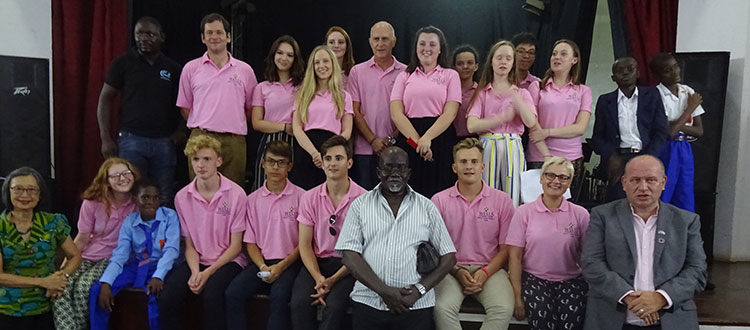 This year's trip to Freetown, as part of the Sierra Leone Project, has been another great success. 13 pupils, including seven musicians, aged 17 and 18, spent ten days in the capital over the October break. During the trip, students taught maths, English, French and physical activity at the JT Reffell memorial school, whilst music was taught at the Ballanta Academy of Music. The group also visited the Chimpanzee Sanctuary, attended church services and relaxed on the beach. Every afternoon, all the team gathered for outreach concerts in schools around Freetown, including the Milton Margai School for the Blind, created by Sierra Leone's former president, Dr Milton Margai, and the British Council.
Pupils gave their all to every task, spending significant amounts of time interacting with other pupils, sharing their experiences, as well as contributing their musical expertise, singing, laughing and developing in confidence and skills as the week went on.
Before their trip, pupils each have to raise around £150 to help finance mini projects that the Sierra Leone Project runs in Freetown. Together with the money raised during the last Event on the Lawn in March, and fundraising events held by the Sierra Leone Project team of Jules Desmarchelier-Arpino, Jack Coward and Neil Bowen, who all took part in this year's trip, this year the team has managed to pay for six P-trumpets and two P-Trombones, which were delivered to the Freetown schools in October. Places for ten pupils at the Ballanta were funded last year and Wells hopes to do the same again this year. We are also looking to support more outreach programmes next year, as well as the funding of a new science block at the JT Reffell school.
The trip is a unique experience open to Sixth Form pupils and run entirely on fundraising events and donations. We look forward to your support in the future and thank everybody for their contributions so far. Look out for future events in support of this unique project.
To find out about this year's trip, read our blog:
wcsslp.blogspot.com