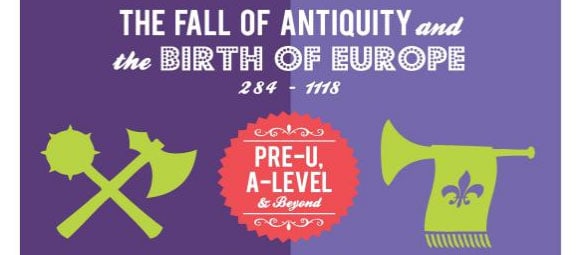 As part of the school's unique sixth form medieval history syllabus, the history department has produced a European companion to the English history text. Written by Chris Eldridge, edited by Marcella Bishop and published by Neil Bowen, our new book,
Imperium: The Fall of Antiquity and the Birth of Europe 284-1118
, is an ambitious foray into the politics behind the decline and fall of the Roman Empire and the emergence of Europe as a political, not just geographical, concept.
It begins by looking at how various rulers such as Justinian and Clovis tried to resurrect the glory of Rome, then considers the short lived experiments by the Carolingian rulers in a unified Europe before looking at how the Vikings, innovation, climate change and a host of other catalysts resulted in the emergence of the familiar divisions of Europe which we know today.
Its purpose is to serve as a general textbook for our sixth formers, an introduction for undergraduate historians and a good read for anyone interested in the controversial, and highly topical, theme of European identity.
Imperium is available via Amazon.