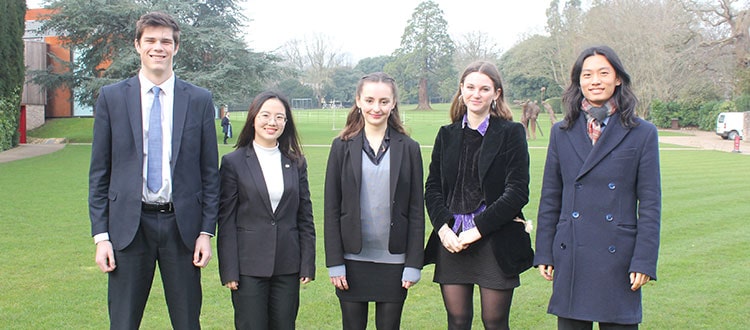 University and Music College Offers
Final year pupils at Wells Cathedral School have been receiving offers and scholarships from prestigious academic and music establishments, as they plan the next steps in their education post A-level.

Pupils have, to date, received over 130 offers from Russell Group universities, with offers to study a wide range of subjects at universities across the UK, from aerospace engineering to geology, history of art to law.

Five pupils have received offers from Cambridge University to continue with their studies: Flora has an offer to read Human, Social and Political Sciences (HSPS) at Clare College; Bruce, an offer to read Music at Magdalene College; Susanna, an offer to read English at Trinity College; whilst Jane and Sam have offers to read Music and Medicine, respectively, at Gonville and Caius College.

Wells musicians have received a significant number of offers and scholarships from UK music colleges to continue with their instrumental studies, with 61 offers, including 36 significant financial scholarships, from prestigious conservatoires such as the Royal Academy of Music, Royal College of Music and Royal Welsh College of Music. In addition, a number of our musicians are still awaiting the outcome of auditions to EU and US institutions.

Of particular note are those musicians who have received multiple scholarships, including pianists Laetitia and Bruce; cellists Gerard, Rebecca and Freya; violinists Yik and Cristina; violist Carys; vocalist Madeleine; percussionist Aileen; and trombonist Meggie.

We look forward to further good news in the coming weeks as other UK university offers come in, alongside the results of applicants to international universities and conservatories.

Head Master, Alastair Tighe, said, "It is wonderful to be able to celebrate the significant successes of so many of our pupils. I am especially pleased to see the variety of courses and institutions our pupils have applied to. The offers received so far are evidence of the commitment and dedication shown by so many pupils, but I would also like to commend the efforts of those who may not have achieved the offers they were hoping for, but who have also worked hard and demonstrated curiosity and determination. I wish all pupils the very best now as they prepare for their upcoming A Level exams".