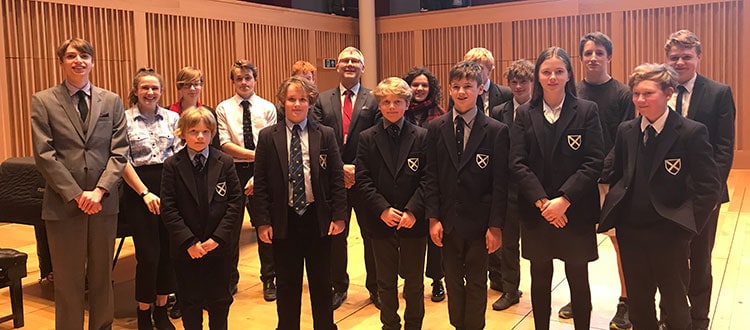 Malcolm Arnold Trumpet Competition 2019
This year's Malcolm Arnold Trumpet Competition was held in Cedars Hall on Tuesday and adjudicated by the Principal Trumpet of The Royal Shakespeare Company, Andrew Stone-Fewings.

Pupils performed in different age categories, with the following results:

Years 6/7

Winner – Charlie

Highly Commended – Joshua

Year 9

Winner – Felix

Highly Commended – Grace

Years 10/11

Winner – Luke

Highly Commended – Charlie

Sixth Form Class

Winner – Matthew

Highly Commended – Eliza

The Most Promising Trumpet Player was awarded to Luke.

Adjudicator Andrew Stone-Fewings was impressed with the quality of the performances of the young trumpeters. He has taken part in many workshops and master classes worldwide for young musicians, including several at Wells, and was a trumpet coach for the National Youth Wind Orchestra.

He studied at the Birmingham Conservatoire where he was the first recipient of the Alfred Corfield Trumpet prize; and was a semi-finalist in the Maurice Andre International trumpet competition in Paris. Since completing his studies he has worked with most of the major orchestras in Britain covering much of the opera, ballet and orchestral repertoire. He has been the principal trumpet with The Royal Shakespeare Company since 1996.