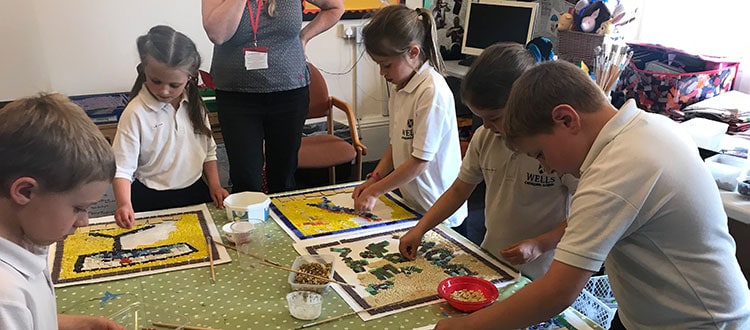 This year's Pre-Prep Arts Week took place in mid-May and followed the theme A Snapshot in Time. Early Years pupils journeyed through time with Dr Who on their very own Tardis, with Year 1 pupils "visiting" Pompeii just before Vesuvius erupted to investigate the science behind volcanoes, conduct experiments with jelly volcanoes and soda and mentos eruptions, and meet some beautifully dressed Roman ladies from the era. Younger pupils "visited" the Jurassic period when dinosaurs roamed the Earth, which involved a dinosaur hunt, baking dinosaur cookies, painting ammonites and making plesiosaurs among many other creative tasks.
Later in the week pupils visited the Museum of Somerset in Taunton, where they examined Roman mosaics, enjoyed activity workshops and dressed as Roman soldiers.
As the week progressed, pupils took part in Roman mosaic art workshops with visiting artist Kate Rattray, created Roman scrolls about the story of Romulus and Remus, studied Roman numerals and made clay gods.
The week finished on a creative high with pupils dressing up and celebrating their whistle-stop ride through history!