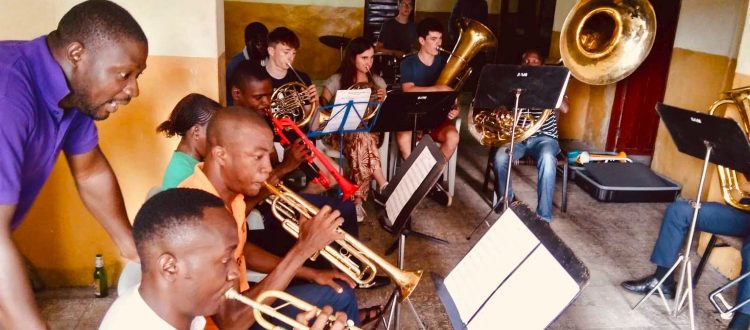 14 Sixth Form pupils spent ten days in Freetown, as part of the Sierra Leone Project, over the October half term break. As part of the trip, pupils taught maths, using Sudokus, maths robots and even Countdown; English, using poetry, nursery rhymes and short stories; French by encouraging communication and story listening; and physical activity, at the JT Reffell French Memorial School; whilst music was taught at the Ballanta Academy of Music. Every afternoon, the team gathered for outreach concerts in schools around Freetown, including the Milton Margai School for the Blind, the Cheshire Home for the Disabled and the Don Bosco Orphanage. The trip culminated in a joint concert between pupils from Wells, the Ballanta Academy and the JT Reffell School at the British Council, which was well attended and a great musical experience. 
Jules Desmarchelier-Arpino, the Sierra Leone Project Manager, said, "Wells pupils shone and gave their all to everything we did, spending a lot of time interacting with other students everywhere we went. They shared their experiences as well as their music, sang, laughed and became more confident and richer as the week went on."

Pupils were also encouraged to explore the culture, and this year's trip included visiting the Chimpanzee Sanctuary, going on a two hour-hike in the jungle, attending a church service, where Wells musicians performed three songs, and also relaxing on the beach one afternoon. 
You can find out about the trip by reading the Wells blog for this year on:
wcsslp.blogspot.com


Pupils who come on the trip each have to raise £150 minimum to help finance mini projects that the Sierra Leone Project runs in Freetown. Together with the money raised during the last Event on the Lawn, last March, and other fundraising events during the year, Wells has managed to pay for cricket equipment, contributions towards the building of a mini auditorium at the Ballanta Academy, and the building of the foundations of a new block at the JT Reffel School this year. This has enabled a space for a small library to be built as well, which it is dedicating to Wells.  The School is also funding the attendance of ten pupils at the Ballanta Academy for the coming year, including a promising self-taught flautist.  

The trip is a unique experience open to students in the Sixth Form and run entirely on fundraising events and donations. The School looks forward to your support in the future and thanks everybody for their contributions so far. Look out for future events in support of this unique school's project.