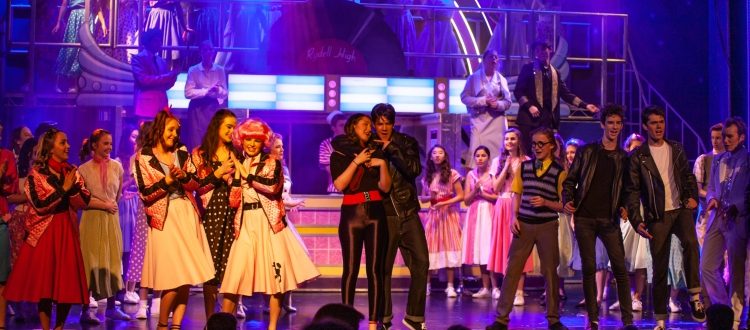 Congratulations to the cast, band and creative team of this year's dynamic Senior School Production – the popular and high octane musical, Grease, performed at Strode Theatre over five shows in the first week of December. 
Produced and directed by Damian Todres, with music directed by Paul Denegri and vocals directed by Laurence Whitehead, the show involved over 80 pupils, acting, singing, dancing and involved in creative production backstage. 
Since its electric Broadway and West End debut in the early 1970's, Grease has remained one of the most popular and enduring musicals of all time. Funny, frank and featuring the hit songs "Greased Lightnin'," "Hopelessly Devoted to You," "You're The One That I Want," and "Summer Nights," Grease follows the journey of Danny and Sandy, alongside the Burger Palace Boys and the Pink Ladies, as they navigate high school to the unforgettable rock n' roll soundtrack that defined generations.
With a sellout audience of whooping and dancing fans each night, the Wells production of Grease proved a huge triumph, with every performance receiving a standing ovation, and providing a vibrant, energetic and inspiring performance of one of the world's best-loved shows.
Here is a fraction of the feedback received about the production: 
"The energy on stage was incredible, so many talented children, such great humour, costumes, makeup all fab and music wonderful."
"What an absolute joy and pleasure to watch. Huge congratulations to all involved."
"A WONDERFUL uplifting evening!"
"I just LOVED every bit of Grease last night… and in particular the pure joy that all the cast had on their faces as they performed."
"We've never before seen anything as joyous and professional."