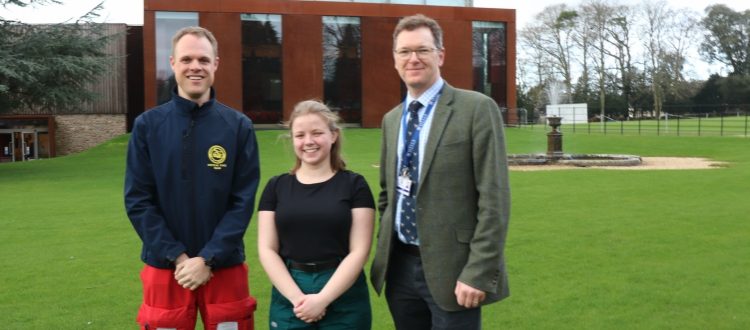 Lower School Paramedic Visit 
On Friday, pupils in the Lower School took part in a First Aid and Careers themed Assembly. Upper Sixth pupil, Polly Palmer, explained about her work volunteering with St John Ambulance and demonstrated how to manage two dining hall related scenarios: anaphylaxis and choking.

She also explained how her work with St John Ambulance contributed to her Duke of Edinburgh Gold Award, and about the variety of careers in health and primary care. Polly has a place to read paramedic science at Bournemouth University next year and has recently qualified as a first responder.

Old Wellensian Ollie Zorab, who left in 2006, is an Air Ambulance paramedic. He also gave a talk to the audience of young pupils, explaining what Polly has to look forward to after university and describing his career as an ambulance paramedic, before he joined the Dorset and Somerset Air Ambulance.

Ollie also completed his Duke of Edinburgh Gold award whilst at Wells, learning and applying first aid skills in the Black Mountains before going on to bigger adventures. He has also been the expedition medic on Operation Raleigh expeditions to Borneo and Nicaragua.