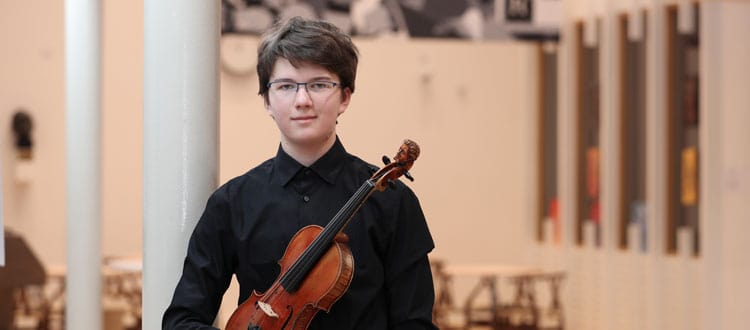 Dawid Selected for International Menuhin Competition
Congratulations to talented Year 10 violinist Dawid Kasprzak, who was selected to take part in the First Round of the Junior Section of the prestigious Menuhin Competition Richmond 2021, the world's leading international competition for young violinists.

Founded by Yehudi Menuhin in 1983 and nicknamed "The Olympics of the Violin" the competition attracts hundreds of entries from countries across the globe, choosing only 44 of the world's very best young violinists, under the age of 22, to participate. Held every two years in a different world city the competition discovers, encourages and nurtures exceptionally talented young musicians from all corners of the world to develop into the next generation of great artists.

Following the Covid-19 global pandemic, the Richmond 2020 Competition was postponed until now, but the eligibility criteria remains as it would have been for May 2020 and all competitors who were selected to participate in 2020 have re-confirmed their participation in the Menuhin Competition Richmond 2021.

Collaborative in its spirit, the focus is placed on participation and learning rather than winning the 1st Prize. Creating a stimulating environment in which talented young violinists may learn and grow has always been and will remain at the heart of the Menuhin Competition.

The Menuhin Competition has an impressive track record of counting some of the world's most gifted violinists among its participants and prizewinners. Since 1983, many prizewinners such as Nikolaj Szeps-Znaider, Tasmin Little, Julia Fischer, Ilya Gringolts and more recently Ray Chen, Chad Hoopes and Stephen Waarts have gone onto successful international careers as soloists. Some are outstanding concertmasters such as Daishin Kashimoto at the Berlin Philharmonic, others such as Corina Belcea lead world-class chamber ensembles.