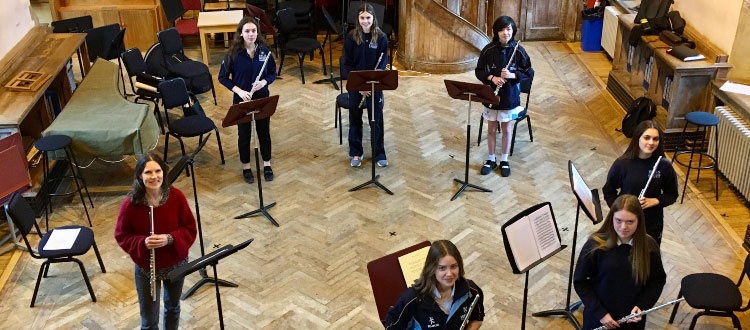 The Furstenau Flute Challenge
Saturday marked the final event for the 'Furstenau Challenge', a project that was set up by flute teacher Liz Walker to engage Wells pupils with flautists from around the world.
The aim was to study the famous Furstenau Op 125 etudes for flute as well as raising money for Help Musicians by performing all 24 pieces in one go!
Wells pupils have been studying the whole set of pieces since January with additional early morning classes run by Susie Hodder-Williams.
24 eminent flautists from around the world gave their time to produce video performances and tutorials on each piece and Liz Walker curated these, with one released each week. There has been a wealth of information shared throughout this project and a very healthy £700 has been raised for Help Musicians so far.
Here is a link to the JustGiving page
which remains open for this very worthy cause.
The photo shows Susie leading a play through with Wells pupils in the Quilter Hall.