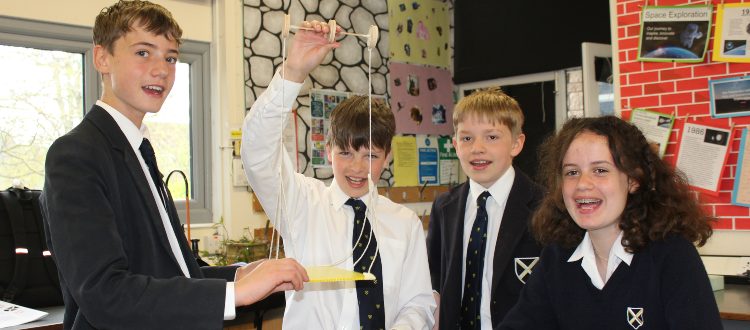 Faraday Engineering Challenge
Pupils in classes 8L and 8K took part in a 5-lesson Faraday Engineering Challenge last week to design and build a prototype to help Network Rail cope with the increasing number of passengers using their stations and trains throughout May. The team challenge was set by the Institute of Engineering and Technology (IET) in combination with Network Rail, judged by an IET judge.


The pupils rose to the challenge, quickly realising that teamwork was the key to success. With each team member taking on a different role – project manager, accountant, electrical engineer, mechanical engineer, communications officer, safety officer – they designed and created prototypes to solve Network Rail's "big issues".


There were designs to move platforms to enable passengers with pushchairs and bikes to be able to safely cross the gap between the platform and the train. Other groups used pressure pads to close barriers when platforms were becoming overcrowded. One team designed a train with a raisable roof to enable more space for luggage when needed.


IET Faraday Challenge is an annual competition for 12-13-year-olds, aimed at giving pupils the experience of what it's like to be a team of engineers, outside the classroom.


Young people work on a real-world engineering problem, exploring some of the challenges faced by industry today, with annual themes ranging from aerospace to theme parks, space exploration to railways. Pupils work together to design and build a prototype and present their findings back to the group.


The days are set up and run by a STEM professional, with support provided by the challenge leader, but the emphasis is on pupils working as a self-directed and motivated team, navigating beyond their comfort zones and being challenged to explore their own solutions.


Wells pupils embraced the challenge whole-heartedly and wowed teachers with their ideas, creativity, engineering skills and teamwork. It is now in the hands of the judges from the IET who will review the paperwork and prototype presentations. Watch this space!