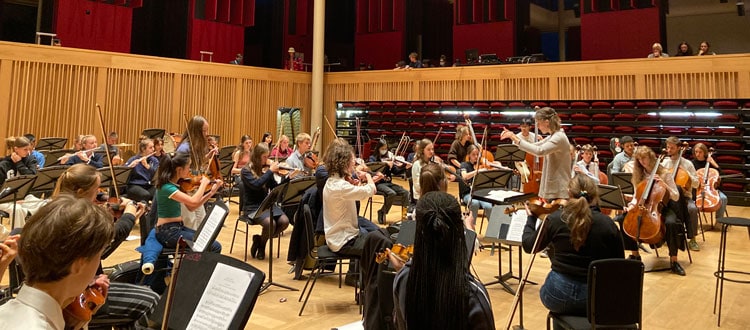 Masterclass with Conductor Chloé van Soeterstède
We were delighted to welcome back acclaimed conductor
Chloé van Soeterstède
to Wells last Friday for an afternoon on Ravel's
Mother Goose Suite
, following her triumph with the Symphony Orchestra in last summer's
Symphonic Finale
.
Chloé worked with Bridget Yee, Brian Choy, Yufei Zhu (Upper Sixth), Defne Anar and Leo Wong (Year 11) in an afternoon conducting masterclass, followed by an open Q&A on her path to conducting and the world of orchestral music making. In the evening, Chloé treated us to an exploration of this piece at
Friday Night is Symphony Night
with an orchestra of 40 pupil volunteers, many observers and a host of pupil conductors.
We were so inspired by Chloé's energy and musicianship and so lucky to have her return to Wells!