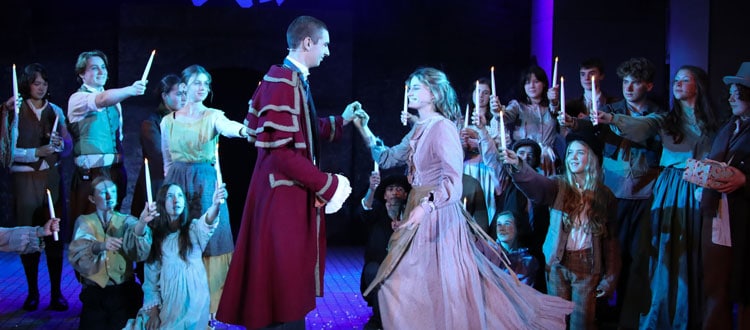 Following the past triumphs of
Les Misérables, The Crucible, Beauty and the Beast, Private Peaceful
and
Grease
and the recent film of
Our Country's Good
, Wells Cathedral School made a live drama return to Cedars Hall this week to tell a new stage version of Dickens' compelling tale of love, loss and redemption:
A Christmas Carol
.
Featuring a live score of Christmas favourites composed and adapted by pupils, giant puppets and an ensemble cast, this festive classic played to rapt sold-out audiences over the week, as well as to some very excited visiting schools who attended the matinee; receiving a standing ovation on its closing night. Many of these audience members have since been in touch:
"A very quick message to thank every single person involved with the production for what was a stunning performance last night. A very relevant story to this day and age was conveyed to an absorbed audience by the integrity and sensitivity of all the cast who were outstanding in every respect; there was as always something happening on the stage all the way through, and the musicians and back-stage support all contributed to a memorable and very significant interpretation of a Christmas story."
This stellar achievement is a product of true collaboration between actors, dancers, musicians, puppeteers, backstage team and many creative and support staff. Bravo to all involved!