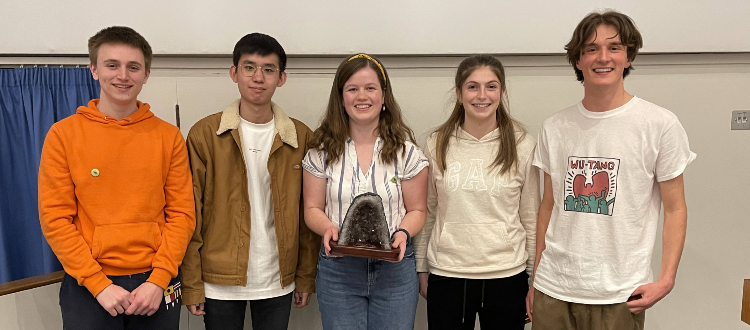 Wells Wins National Schools Geology Challenge
We're delighted to announce the team of Harriet Carlill, Marco Yu, Hermione Christey-Clover, Will Peutherer and Louis Cronin have won the National Schools Geology Challenge, held at the Geological Society's headquarters in London.
The team travelled to the capital to take part in the final after qualifying with their video entry to the competition entitled '
The Geology of the Mendip Anticline
', which can be viewed below, and upon arrival were faced with a real world decision-making scenario on the location of a geological disposal facility for nuclear waste. They considered maps, rock samples, borehole data and budgetary requirements in order to pitch a proposal to the judges, a panel of professional geologists.
The group were praised for their teamwork and the geological understanding demonstrated in their presentation. They are the third team from the School to win the trophy, following previous victories in 2013 and 2014.
Well done to Harriet, Marco, Hermione, Will and Louis on their remarkable achievement!