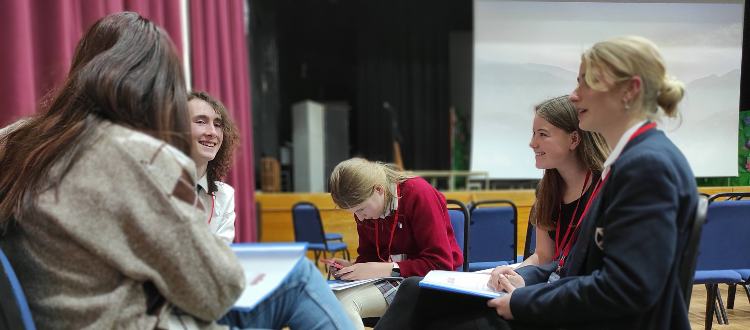 Wells Pupils Attend WESTMUN Model United Nations Conference
A group of Senior School pupils travelled to Westonbirt School to take part in WESTMUN, a Model United Nations conference.

Model United Nations gives students the opportunity to develop "skills in leadership, debate, public speaking and negotiation, as well as considering how to solve the major issues facing the world, all within a structured and supportive environment" by allowing them to play the role of delegates at a conference debating global issues and developing solutions to problems of international significance. As such, it is a fascinating and challenging experience for which students need to be well-prepared, quick to respond and ready to face the unexpected. The Wells Cathedral School delegation acquitted themselves excellently on all counts at WESTMUN, the inaugural conference hosted by Westonbirt School last week.

The Wells delegation – Jane Lee (Year 11), Luke Doyle (Year 11), Florence Gummer (Year 11), Alice Clements (Year 11), Alexei James-Cudworth (Lower Sixth) – were allocated Turkey. All delegates had researched the country well and appreciated the nature of its geographical and political relationships both with the EU and Russia. As the minibus travelled over the Mendips and through Bath they discussed their priorities and aims as a delegation, as well as preparing themselves for questions on tricky or controversial areas.

Arriving at Westonbirt School, the delegation were soon set to work in the Library and began to draft resolutions in the UN style, agreeing their stance as a country on the wider issues. Moving to the Orangery, the groups then split up to form different councils and represented Turkey's interests in debating the different questions that had been set, such as 'The Question of Refugees from War' and 'The Question of the International Drug Trade' (Social, Cultural, and Humanitarian Committee) and 'The Question of Finance for Development' and 'The Question of Cryptocurrency' (Conference on Trade and Development). After an intense hour of lively debate, diplomacy and occasional skulduggery, the delegations were called to dinner, during which the Wells team took stock of what had been so far achieved and how they could best plan to bring things to a conclusion.

And so followed, after dinner, the culmination of the evening. Each delegation presented their resolutions, and votes were taken. Three of the four resolutions prepared by Turkey were voted through, notwithstanding some last-minute controversies and international tensions, with Turkey testing the bounds of loyalty but ultimately prevailing with some bold proposals regarding EU funding for their own renewable energy provision and petitioning the US and China to support refugees in Europe.

We would like to express our thanks to Westonbirt School, and especially to Deputy Head Mr Balderson, for making us feel so welcome at their beautiful school, and for providing such a stimulating and challenging evening. Much was learned, fun was had, and friendships were made; we very much look forward to building on this experience by returning to WESTMUN next year.