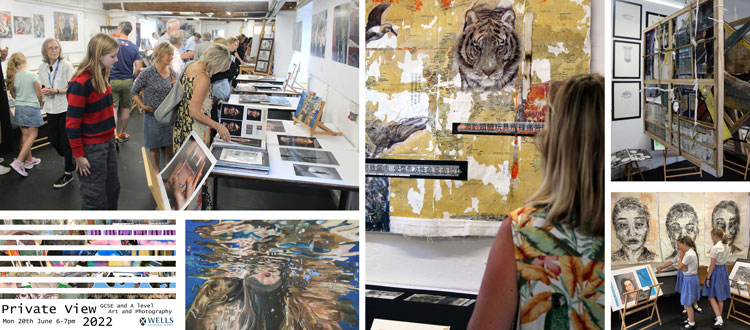 Art And Photography GCSE And A Level Private View
On Monday 20th June, the Art and Photography Departments held a combined GCSE and A level Private View to celebrate the creative endeavours of Year 11 and Upper Sixth pupils.

Held in the Art and Photography Studios as well as the Art Courtyard, the exhibition gave a fantastic overview of the pupils' incredible achievements within the spaces in which they had been created. The show incorporated examples of a wide variety of approaches and use of media, including aspects of drawing, painting, collage, mixed media, textile art, digital manipulation/painting and installation/sculpture, with truly individual outcomes. Written comments left by guests, including contemporary artists and curators, were echoed by the conversations heard around the studios; 'Fantastic display, inspirational talent', 'lots of exciting techniques and processes' and 'some amazing artists'. A huge well done to our young creatives! A selection of A level work from the exhibition will also be on view in the John Baxter foyer in Cedars Hall on Speech Day.

Follow @artatwells on Instagram to keep up with the latest from our Art department.