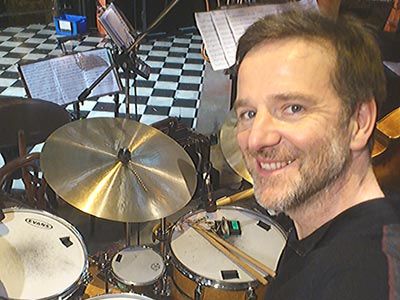 Project Description
Andrew Tween, Drum Kit
Andrew Tween is a freelance drummer, television composer and drum kit teacher at Wells Cathedral School.
Since studying jazz at the Guildhall School of Music he has worked in Monte Carlo with the Tony Evans Dance Orchestra performing shows and supporting touring artists. Following a move back to England he has performed frequently with Pee Wee Ellis and toured and recorded with folk artist and Mercury Prize winner Seth Lakeman, playing drums and cajon. He has recorded with 2010 award-winning folk band Show of Hands and played with numerous eminent musicians including Fred Wesley, Tony Remy, Cameron Pierre, Clare Teal and Iain Ballamy. He also has played with pop artists Limchl and Sonja Kristina and choreographer Michael Clark.
He has composed music for the BBC and the Discovery Channel and recently for Trinity Guildhall Drum Grade Exams.