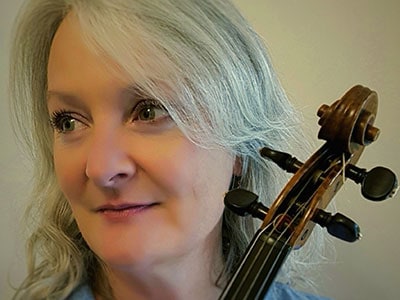 Project Description
Ann Monnington, Violin
Ann has had a highly successful career both as an orchestral and chamber musician, performing and recording with ensembles such as Academy of Ancient Music, London Classical Players, Orchestra of the Age of Enlightenment, Gabrieli Consort and Players and Collegium Musicum 90.

Ann read English Literature at UEA and followed this with an MA at York University researching the lives and work of Fanny Mendelssohn and Clara Schumann amongst others. Whilst at university Ann was awarded scholarships and bursaries which enabled her to study with Sybil Copeland at GSMD and subsequently with Frederick Grinke. After graduating from York she was awarded a scholarship to study at GSMD with Mark Knight and John Holloway.

As a chamber musician Ann has performed and recorded with The Consort of Musicke and Emma Kirkby with whom she made her Wigmore Hall debut. Her most recent collaboration has been with the acclaimed director, forte pianist and horn player, Anthony Halstead. Ann has performed at major venues and festivals worldwide with conductors such as Sir Simon Rattle, Sir Charles Mackerras, Sir Roger Norrington and Richard Hickox CBE. In the course of her work she has recorded well over 100 CDs for labels such as EMI, Deutsche Gramaphon, Nimbus, Hyperion, Chandos and the BBC in repertoire ranging from Monteverdi to Bruckner.

Teaching has always been a passion and has evolved as an important part of Ann's professional life. Described as 'a natural communicator' she enjoys sharing her love of music and the violin with musicians of all ages, be it through individual lessons, coaching chamber ensembles, or leading/directing larger groups such as Original Blend, London and Artavian Baroque, Devon.

When not making music Ann enjoys spending time with her family, walking, sailing and making cakes.