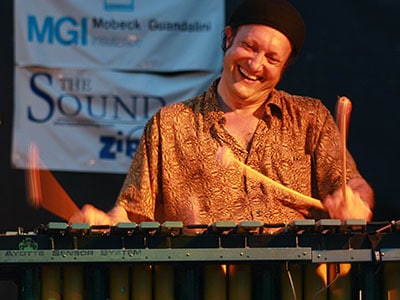 Project Description
Arthur Lipner, marimba masterclass
Arthur Lipner's career has spanned three decades and is going stronger than ever since he began performing professionally at age 14. He has emerged as one of the leading vibes and marimba voices of today. As such he is one of the few musicians carrying the message of jazz mallets into the 21st century.
Arthur's live performances and recorded projects convey an exuberant drive of creativity and depth. His travels around the globe as a jazz musician and percussionist have delighted audiences and critics alike.
Of a recent live performance, the Chronicle Herald (Nova Scotia) wrote, "Lipner belongs to that rare category of master player that includes Art Tatum and Oscar Peterson…"
Arthur's quest for new musical experiences in his life knows no boundaries. The venues at which Arthur has appeared is mind-boggling: aside from concert halls and jazz clubs and recording studios around the world, he has performed with Tuvan Throat Singers from Russia, The National Dance Company of Ghana in a small rural village, in the streets of Rio de Janeiro for Carnival, in Chiapas Mexico where today's marimba has its roots, at the Royal Palace in Marrakesh, and high in the mountains of Norway on an ice xylophone he constructed with Bill Covitz (former Grand Champion of The National Ice Carving Association).
Much of Arthur's career to date will be featured in the upcoming documentary TALKING STICKS. Arthur's global treks, shot on location in USA, Mexico, Ghana, Brazil and Norway, quest to connect cultures and creativity through his instruments. TALKING STICKS, produced by Living Arts Productions, was released in Autumn 2013. Worldwide broadcast, licensing, screenings and concert tours are anticipated. Through the film, outreach partnerships have been set up with The Mexican Consulate in NYC, a music conservatory for underprivileged children in Sao Paulo, and The Dagara Music Centre in Medie, Ghana.
As a soloist and bandleader, Lipner has been to most of the United States and 25 foreign countries. These include Australia, New Zealand, Ghana, Japan, Mexico, Brazil, Peru, Costa Rica, England, Scotland, Morocco, Malaysia, the Caribbean and throughout Europe almost 40 times. He has toured in Brazil at least once per year since 1996. Arthur is one of the most in-demand mallet clinicians at conservatories and universities everywhere. His concerts were sponsored by the US Embassies in Peru (2009) and Slovenia (2010).
In August 2011, during his 14th tour in Brazil, Arthur performed on Programa do Jo, the Brazilian equivalent of the USA's David Letterman Show. In July 2010 Arthur performed his concerto MALLET FANTASIA in Lima, Peru. He has recorded Brazilian music in NYC and Rio de Janeiro with numerous artists including guitarist Nelson Faria (currently with Joao Bosco) and woodwind artist Ze Luis. His current working band is called "Arthur Lipner and Brasilian Vibes".
Arthur has presented over 300 workshops throughout the world, with invitations to teach at some of the most prestigious universities in the USA and Europe including The Juilliard School (NYC), Yale University and Sweelink Conservatory (Amsterdam). He has been on the Faculty of The Brabants Conservatory in Tilburg, Holland, Drummers Collective (NYC), State Univ. of NY (Purchase) and Univ. of Bridgeport (CT).
He is sponsored by the Conn/Selmer Company and Mike Balter Mallets as an artist/clinician, and has performed at three PASIC conventions. He served eight years (2000-2008) on the Board of Directors of The Percussive Arts Society (www.pas.org).
Over 75 of Arthur's compositions have been released on recordings. His music has been used on radio, film and tv soundtracks in such places as Finland, Japan, Belgium, The Netherlands and England. His compositions have been recorded 20 times by various groups. Arthur's appearances as a NYC session player has led to tracks for everything from Bluegrass to Brazilian to Christmas albums, the tv shows "Sesame Street," "Designing Women," Bill Cosby's "It's A Different World," Japanese tv, a French film score, and dozens of radio and tv commercials.
Arthur's THE VIBES REAL BOOK (1996) is the most comprehensive guide to jazz vibes. "Jazz Mallets: IN SESSION" (2000) is the first-ever play-along book for vibes and marimba. "From Lead Sheets To Hip Solos", improvisation for all instruments, was released in 2003 by Carl Fischer Music.
All Lipner compositions and recordings are available at MalletWorks Music (malletworks.com).