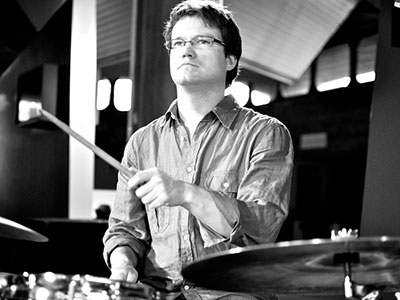 Project Description
Dave Smith
Dave Smith is one of the finest young drummers in Britain. Drawing on a wide range of influences, from West African percussion to classic jazz drumming, his explosive style and musical sensitivity give him the versatility to play in many musical environments.
Dave is best known for his work in co-leading Outhouse, a Loop Collective group that formed in 2005. Since releasing their debut record on the Babel label, Outhouse have toured the UK and performed in Canada, Germany, France and West Africa. Their second album 'Ruhabi' on Loop Records followed a collaborative project with five Sabar percussionists from The Gambia. Outhouse projects have included working with Canadian group [IKS], Stephane Payen, Jeanne Added and Le Bruit Du [Sign] from Paris, and most recently with Icelandic guitarist Hilmar Jensson, who is on their latest album 'Straw, Sticks and Bricks'.
Dave performs with Mark Lockheart's '!n deep', the Sam Crowe group, Justin Adams & Juldeh Camara, Iness Mezel, Fofoulah and has worked with international artists such as Donny McCaslin, Ralph Alessi, Eddie Henderson and Ingrid Jensson. Within the collective Dave plays in Outhouse, Jim Hart's Gemini, Tom Challenger's MA and Dan Nicholls' Mirror.