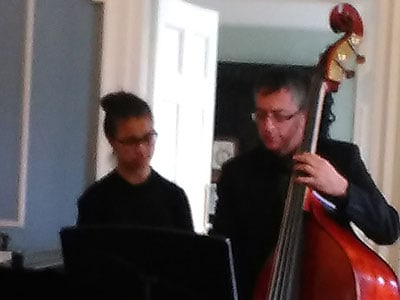 Project Description
Gabriele Ragghianti, Italian Bassist
Italian bassist Gabriele Ragghianti, Professor of double bass at London's Royal College of Music and ISSM "L.Boccherini" of Lucca, was a guest of the double bass department on Thursday 28 April 2016. His masterclass in Cedars Drawing Room was attended by the Wells bassists alongside four guests including the talented young bassist, Thea Sayer, who is a private student of David Heyes and is a member of the NYO. The masterclass was a great success thanks to everyone taking part and Prof. Ragghianti was a popular guest teacher who emailed David: "Thank you for your kind invitation, it was a pleasure to meet you and the students. Congratulations for your work and the passion you were able to transmit to the students, they are wonderful."
The day had a very positive and upbeat feel with valuable feedback for all the students, reinforcing technical and musical issues alongside introducing different perspectives which prove the success of the masterclass system.
Each student focused on skills relevant to the music they played and all were open to new ideas and willing to try different approaches or initiatives to develop and enhance their performances and studies.
Professor Ragghianti was a welcome guest at Wells, one of a long line of eminent bassists to visit the school, and his visit was one of the highlights for the double bass department this term.