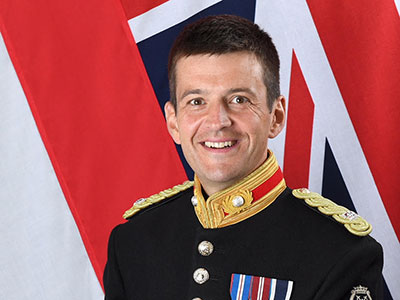 Project Description
Major Huw Williams, Director of Music Training, Royal Marines School of Music
Having grown up in a musical family, Huw Williams left school at 16 to join the Royal Marines Band Service. At the Royal Marines School of Music in Deal, Kent, Huw studied cornet with Prof. Sydney Rose for two years and was awarded the Prince's Badge for best musician under training before being posted to the Plymouth band in 1996. During this posting he performed all over world, including at the handover ceremony of Hong Kong, Philharmonic Hall St Petersburg, Buckingham Palace and some twenty nights at the Royal Albert Hall. A seven-month deployment aboard HMS Illustrious took in many of the Mediterranean ports, through Suez and the Red Sea on the way to the Philippines, S Korea, Japan, Malaysia, Singapore, and finally Australia. Huw also gained his BA (Hons) during this time through the Open University, studying and sitting exams in all kinds of places, aboard warships or even under canvas in the Omani desert.

In 2002 Huw was drafted to the Royal Marines School of Music, now in Portsmouth, to the post of cornet instructor. Selected Bandmaster in 2006, he returned to Plymouth band where he also became musical director of Bodmin Town Band. Commissioned and promoted to Captain in 2010, Huw was appointed Director of Music of the Band of HM Royal Marines, Commando Training Centre, where he served as OC Rear Party for UK Medical Group and Joint Force Support on Operation Herrick 14.

From 2011-2013 he studied orchestral conducting under David Jones at the Royal Welsh College of Music, before returning to Commando Training Centre Royal Marines as Director of Music until 2015. A two year assignment to Headquarters Band Service followed, where he was responsible for manning and tasking of RM Bands. A further post as Director of Music Plymouth band in September 2017 preceded his current role as Director of Music Training at the Royal Marines School of Music in Portsmouth. A father of two and keen marathon runner, Huw lives in Emsworth, on the Hampshire-Sussex border.