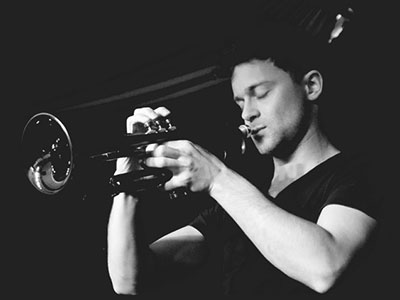 Project Description
Nick Malcolm – Jazz Trumpet and Improvisation
Nick is an original, exciting and heart-felt improviser. He has been playing the trumpet since the age of nine and has studied with Chris Batchelor, Gethin Liddington, Steve Waterman, Julian Siegel, Liam Noble, Dave Wickins and Ralph Alessi and has an MMus in jazz performance from Trinity College London. He plays in a wide variety of improvisational settings from straight ahead jazz to free improv. Nick has performed at the 606 Club, The Vortex, Cheltenham, Glastonbury and Oxford Festivals and Ronnie Scotts. He is a member of large improvising ensemble Somedectet, the Gail Brand Quartet and has worked with Mark Hanslip, Alexander Hawkins, LIO, John Law, Karen Street and Nostalgia 77. Current and future projects include:
his own quartet which focuses on original compositions exploring the tension between free improvisation and complex structure
the trio Dome that performs in churches and other large acoustic spaces playing compositions on the boundary of jazz and classical music
a hard-swinging quintet playing Wynton Marsalis's early compositions and
various free improvisation projects with Chris Batchelor, Mark Sanders, Javier Carmona and Olie Brice.
He is jazz trumpet teacher at Wells Cathedral School in Somerset.