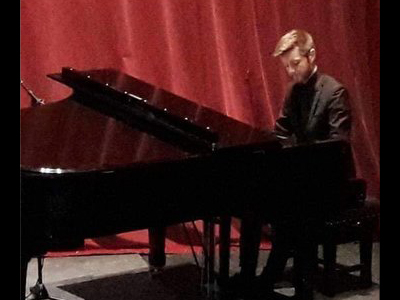 Project Description
Nick Lauener, Classical Pianist
Nick Lauener is a classical pianist and has been performing professionally for the past ten years.

Nick studied for his Bachelor of Music at the University of Glasgow under the guidance of Isobel Anderson, where he was awarded a number of prizes for his playing including The Murial Thorne Hague Memorial Prize, The Sir Thomas Beecham Scholarship for "receiving the best marks in a performance," and the Goudie Prize for attaining the "highest standard of excellence in the final year of an honours curriculum".

Following the success of his BMus, Nick went on to study for a masters degree at the Royal Conservatoire of Scotland under the tutelage of Sinae Lee and James Willshire. Whilst at the conservatoire he continued to develop his love of collaborative playing, getting involved in a number of duos and ensembles. Highlights of his time here include performances in the RCS Plug new music festival and the RCS piano festival, among others.

Thanks to the University of Edinburgh's Graduate Studio Assistant Scheme, once graduating from his Masters, Nick spent a year as the staff pianist for Edinburgh University's music department. It was down to this position that he was able to collaborate in numerous performances with the students, organise a lunchtime concert series at Greyfriar's Kirk, and perform all across Edinburgh, in venues such as Reid Concert Hall, St Cecilia's Hall and by royal appointment at Holyrood Palace.

This experience as an accompanist lead Nick to his current position, a staff accompanist for Wells Cathedral School. Wells is a specialist music school and here he has the pleasure of teaching and performing with many of the country's top young musicians. As part of his role he performs regularly in both lunchtime concert series', and evening gala performances, exams and masterclasses both in Wells and in the surrounding area. recently he performed on national television as part of the BBC Young Musician Of The Year series.

Nick is particularly interested in music that crosses the boundaries of genre. In recent years he has performed the concerto Rhapsody in Blue with the Kelvin Symphony Orchestra and the Ravel Piano Concerto in G Major with the University of Edinburgh Symphony Orchestra. Other recent performance highlights include playing NOISE Opera's Sloan's Project and Navigate The Blood, a collaborative opera with indie rock group Admiral Fallow. He performed in the Scottish premiere of Steve Reich's Radio Rewrite with contemporary music group the Auricle Ensemble, participated in the Live Music Now scheme with his duo partner violinist Abigail Young, and performed numerous other solo and collaborative performances in the Edinburgh International Festival, the Cottiers Chamber Festival and the Aberdeen International Youth Festival among others. He was one of the founding members of the internationally performing Veritable Ceilidh Club, and recorded a critically well received EP with folk rock group These Wooden Bones.

In his spare time Nick composes solo piano music that combines his love of classical, folk and jazz, is a keen artist, specialising in ink and watercolour, an enthusiastic lover of books, the great outdoors, and spending quality time with his cat, Rushka.