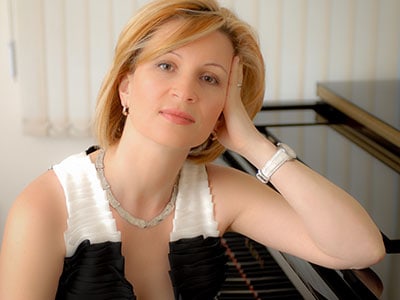 Project Description
Olena Shvetsova – Piano
Olena Shvetsova was born in Kiev, Ukraine. From an early age she developed an interest in classical music and, encouraged by her parents, she began studying piano at the Kosenko Music School, subsequently continuing her education at the Music College of Kiev, then on to the prestigious National Music Academy with a grant from the President of the Ukraine. Her teachers have included Natalia Romenska, Olga Orlova, Olga Liforenko and Zoia Eremenko a pupil of the great russian pianist Lev Oborin.
She continued these rich traditions with her own students in the Kosenko Music School and the National Music Academy, where she taught after graduation and was official repetiteur for the Opera department. Since taking First Prize at the 6th International Piano Competition in Rome, Olena has performed extensively in the former Soviet Union and Western Europe with a wide repertoire including piano concertos by Mozart, Schumann, Tchaikovsky and Rachmaninov as well as a varied recital repertoire.
Now settled in England, Olena has already appeared in many solo concerts and has formed a duo with cellist Richard May, giving performances across the U.K and abroad. She also teaches piano at Bristol University.