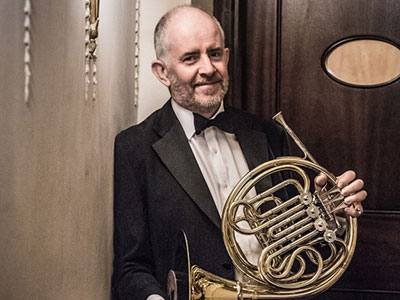 Project Description
Richard Bissill, French Horn
Richard was a member of the Leicestershire Schools Symphony Orchestra, the BBC Radio Leicester Big Band and the National Youth Jazz Orchestra. He studied horn and piano at the Royal Academy of Music before joining the London Symphony Orchestra aged 22. He was Principal Horn of the London Philharmonic Orchestra from 1984-2009 and Section Principal Horn of the Orchestra of the Royal Opera House, Covent Garden from 2009-2017. He has taught at London's Guildhall School of Music and Drama since 1983 and been a member of London Brass since 1990. He was made a Fellow of the Royal Academy of Music in 2005.
As a freelance session player he has worked with the likes of Paul McCartney, Elton John, Robbie Williams, Joni Mitchell, Peter Gabriel and Quincy Jones, and can be heard playing on numerous film soundtracks including Return of the Jedi, Chicken Run, Gladiator, The Mummy, Shrek, Harry Potter, Lord of the Rings and James Bond.
He has performed Britten's Serenade and Mozart's 4th Horn Concerto with the London Philharmonic Orchestra at the Royal Festival Hall, and the concertos of Haydn, Telemann, Mozart and Strauss at the Queen Elizabeth Hall and the Barbican.
For more information,
please click here to visit his website.