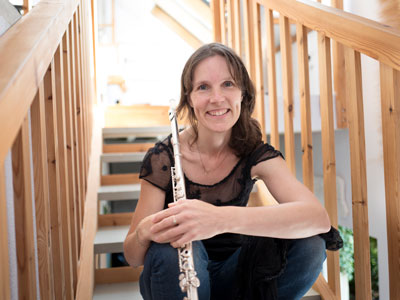 Project Description
Susie Hodder-Williams, Flute
As a freelance musician, Susie works with BBC Symphony Orchestra, Bournemouth Symphony Orchestra, London Mozart Players, Royal Ballet Sinfonia, Royal Philharmonic Concert Orchestra and other symphony and chamber orchestras, contemporary groups, and opera and ballet companies. She has performed at the BBC Proms on many occasions and broadcast on Radio 3 and Classic FM.

Her own interests stem from Japanese contemporary music, meditation and the use of breath. She has released several experimental albums with the record label, Future Music Records – in contemporary chamber trios with new commissions, in collaboration with artists and sculptors and in the field of meditative music. Her music is often played on ABC Australia, RTÉ Lyric FM and the BBC's Late Junction and she was chosen as one of Strike A Light's Artist-in-Residence.

She has worked in Hong Kong, Taiwan, Ukraine and Eastern Europe giving recitals and masterclasses, through the support of the British Council. She has worked with students from the Universidad Panamericana over two years, and with students from Junior Guildhall and Trinity College. Recently she has been involved in masterclasses and adjudicating at the Royal Birmingham Conservatoire and in education projects with the BBC Symphony Orchestra, AYM awards, North Norfolk Arts Trust. She is developing music in schools in Norfolk, with students from the Purcell School.

Susie also teaches meditation with the specialist students at Wells.