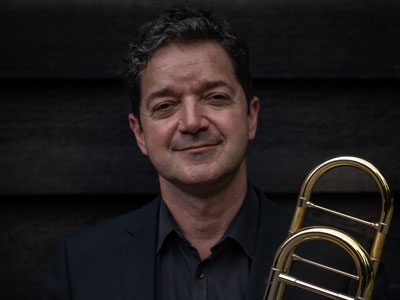 Project Description
Tom Lees, Trombone
Tom studied the trombone at the Royal Northern College of Music, before becoming the first full-time student of the sackbut (Renaissance trombone) at the Royal College of Music, winning a Countess of Munster major scholarship to continue his early music studies there. Since then, Tom has enjoyed a busy freelance career. Highlights have included joining London Brass for a recording of Venetian music, and playing to a worldwide audience of many millions for the live services from St Paul's Cathedral to mark the Queen's 90th birthday and Diamond Jubilee. Tom has performed and recorded with many of the specialist period instrument ensembles at home and abroad, including the Gabrieli Consort and Players, the Orchestra of the Age of Enlightenment, the English Baroque Soloists, the Amsterdam Baroque Orchestra, Ensemble La Fenice and the Canadian Baroque orchestra Tafelmusik, with whom he recorded the Mozart Requiem trombone solo. Tom is a founder member of multi award-winning ensemble the English Cornett and Sackbut Ensemble and is a member of The City Musick and Michael Laird's Baroque Brass of London, with whom he has undertaken sell out tours of Japan. Tom has also worked as a member of the Musicians of the Globe, a group specially assembled to provide music at Shakespeare's Globe Theatre, working on many productions there with Mark Rylance and undertaking tours of Europe and the USA.

In addition to performing, Tom is an enthusiastic educator. He is Head of Wind and Brass at Latymer Upper School and is the trombone teacher at St Paul's School and King's College School. Other education work has included a masterclass at the University of Toronto, trombone tutor for the National Prep School Orchestras and a pre-concert talk on the history and development of the trombone for the London Philharmonic Orchestra. Tom is also currently Chairman of the British Trombone Society and works to encourage junior members and promote the 'historical' trombone.

Performing on historical trombones, Tom has recorded music for a number of films, including Shrek the Third, Elizabeth: The Golden Age, Bedtime Stories and Pride and Prejudice, in which he also appears in the film playing an 18th century trombone. Playing a renaissance trombone, Tom recorded the historical music for the television adaptation of Wolf Hall, and a career highlight, recording with Sir Paul McCartney at Abbey Road.